The Vidyard Chrome extension allows you to create and share videos with your customers, prospects, and colleagues—all in just a few clicks.
The Chrome extension also allows you to edit your videos, including the ability to change your video thumbnail.
Requirements
You must have a Vidyard account
Select a video from your library
You can change the thumbnail of a video on the edit page. The edit page opens whenever you finish a new recording.
You can also open the edit page for a video at any time from the video library.
Click on the Vidyard extension in the top, right-corner of your browser
Click on Videos tab, then select Go to Library
Hover over the video that you want to edit, then click on the title of the video


Note
Make sure that you've selected a video from the library and not a playlist. If you've selected a playlist, click on the title of the video inside the playlist to open the video edit page.
Select a video thumbnail
On the video edit page, scroll down to the Thumbnail editor to select one of the pre-generated thumbnail options:
Static thumbnail: a still image taken from the 1st second of your video
Animated thumbnail: a .gif taken from the first 3 seconds of your video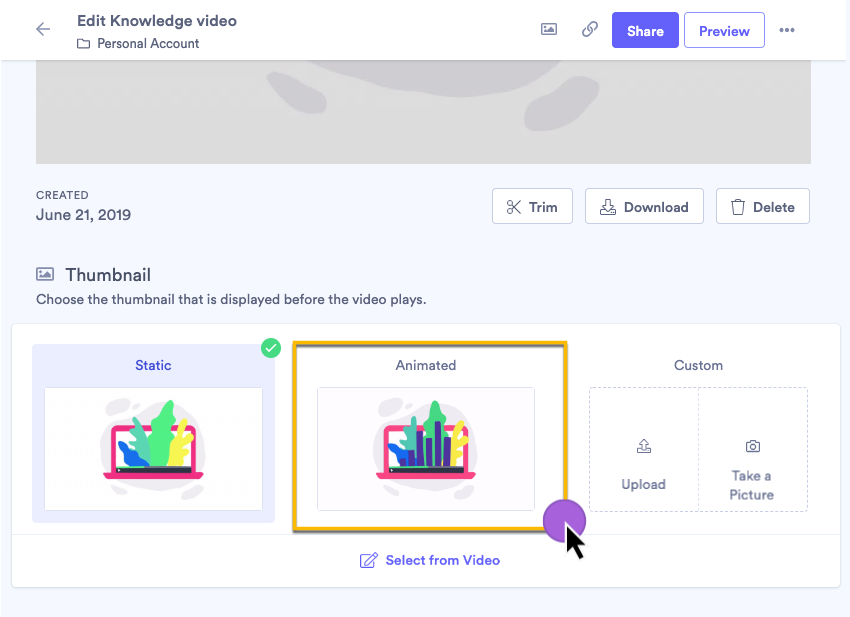 Add a custom thumbnail
You can also choose to add your own video thumbnail. You can either upload an image from your computer, take a picture with your webcam, or select an image from the video timeline.
Upload an image or take a picture
Upload a thumbnail: select a file from your computer (.jpeg, .png or .gif, maximum 5GB in size)
Take a picture: don't like your thumbnail? Take a photo with your webcam to create a new one (you must be using Chrome as a browser with the Vidyard extension enabled).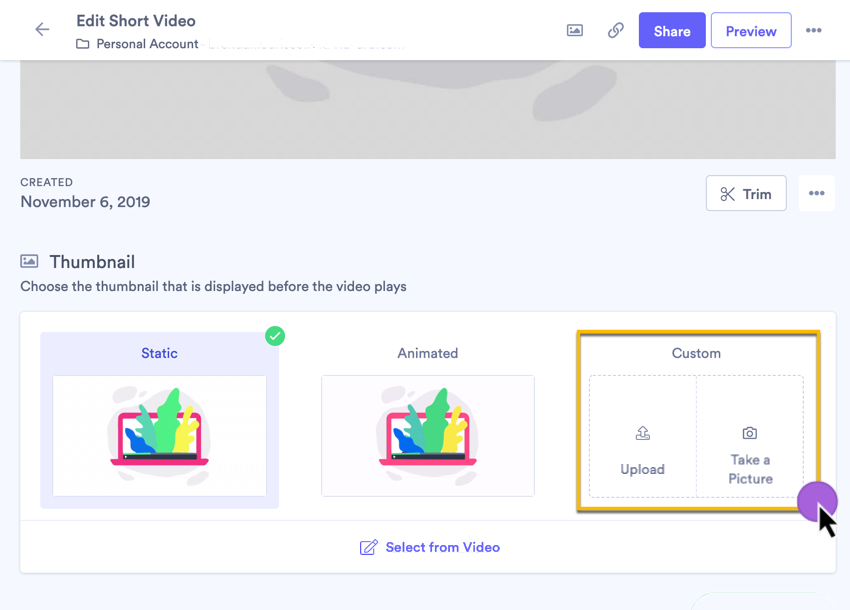 Select an image from the video timeline
Click on Select from Video
Select the type of thumbnail you want (either Static or Animated)

Click on a location in the video timeline to select the frame that you want to use an as an image
If an Animated thumbnail, click and drag the bars at either end of the video to frame the section that you want to turn into a .gif.

Click Select to apply the thumbnail