Why playback has been restricted on your video and what you can do to fix it! 🔧
If you've embedded a video on a webpage or in an application, you may encounter 1 of 2 error messages that prevent the video from playing on the page. Either:
👉 "Video playback has been restricted at this embed location"


👉 "Your video is no longer available at this location" with an option to Watch Video that directs viewers to the video on your sharing page (Vidyard Free & Pro only)
Both errors have to do with settings that control whether your video is allowed to be embedded and where it can be embedded.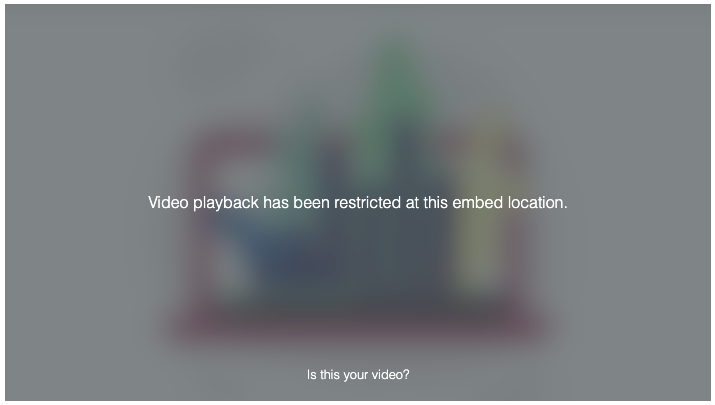 Here is a quick walkthrough of how to resolve these errors:
Is your video allowed to be embedded?
If you want to embed a Vidyard video on an external webpage, you have to enable the embed setting for that video.
Each video that you set to allow embedding counts against your account's embed limit. The limit increases with each Vidyard package tier: 5 embeddable videos for Vidyard Free, 20 for Vidyard Pro, etc. Learn more about account embed limits.
Select the Share button next the video in your library
Select the Embed Video option
Ensure that the toggle next to "Would you like to embed this video?" is set to ON
Is your embedded video restricted to specific domains?

In Vidyard Enterprise accounts, you can use an embed restriction to ensure that your video is only permitted to play back on a specific list of domains.
Your video may be restricted because the page where it has been embedded has not been added to the list of allowed domains.
Select the video from your library to open the edit page
From the menu, select Settings > Embed Restrictions
Review the list of domains where playback of your video is permitted, and manage as needed