Who can use this feature?
Available on Business plans (with API & Webhooks add-on) and Enterprise plans
This article explains how to set up and get started with Vidyard's integration for Gong.
Once connected, the integration allows you to gain insight into how Vidyard videos influence your deal cycles. Each time an identified viewer watches a video, Vidyard shares engagement events with Gong to analyze as part of the communications that your team has with various contacts during a deal.
Requirements
To set up the integration with Gong, you must meet the following requirements:
Connect Vidyard to your Gong account
The Gong integration is an account-wide feature. It applies to all users and videos in your account, regardless of which folder you are located in when you connect the integration.
Sign in to your Vidyard account
Select Admin > Integrations from the main menu
Click on +Add next to Gong and sign in to your account
When prompted, select Allow to authorize Vidyard to access your Gong account
Video engagement activity in Gong
When a contact watches a video and becomes an identified viewer, Vidyard posts engagement events to the deal activity timeline in Gong.
Video views are associated with Deals in Gong by matching the viewer's email address to a contact attached to the Deal.
Gong also associates views to a Deal by email domain. This allows you to "find more friends" by showing activity from contacts who may not be part of the Deal or listed on the opportunity or account records in your CRM.
Events are posted for each quartile milestone that the viewer reaches in the video – 0%, 25%, 50%, 75%, 100%. You'll find video engagement events on both the deal activity page and account activity page in Gong.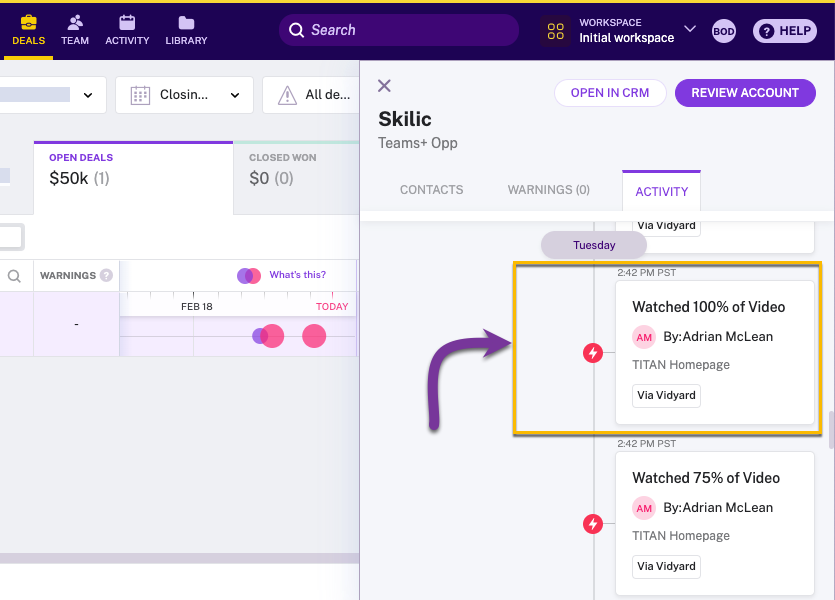 Each engagement event contains the following data:
| | |
| --- | --- |
| Data | Description |
| View time (eventTime) | The time that the event occurred (timezone based on settings in Gong) |
| Viewer email | The email address of the contact associated with the event |
| Video name | The name of the video that was watched |
| Vidyard folder name | The name of the folder in Vidyard where the video is located |
| Percentage watched (0%, 25%, 50%, 75%, 100%) | How much of the video was watched (expressed as a percentage) |
Each engagement event also contain a direct link to:
The video's external sharing page
The video's edit page in your Vidyard account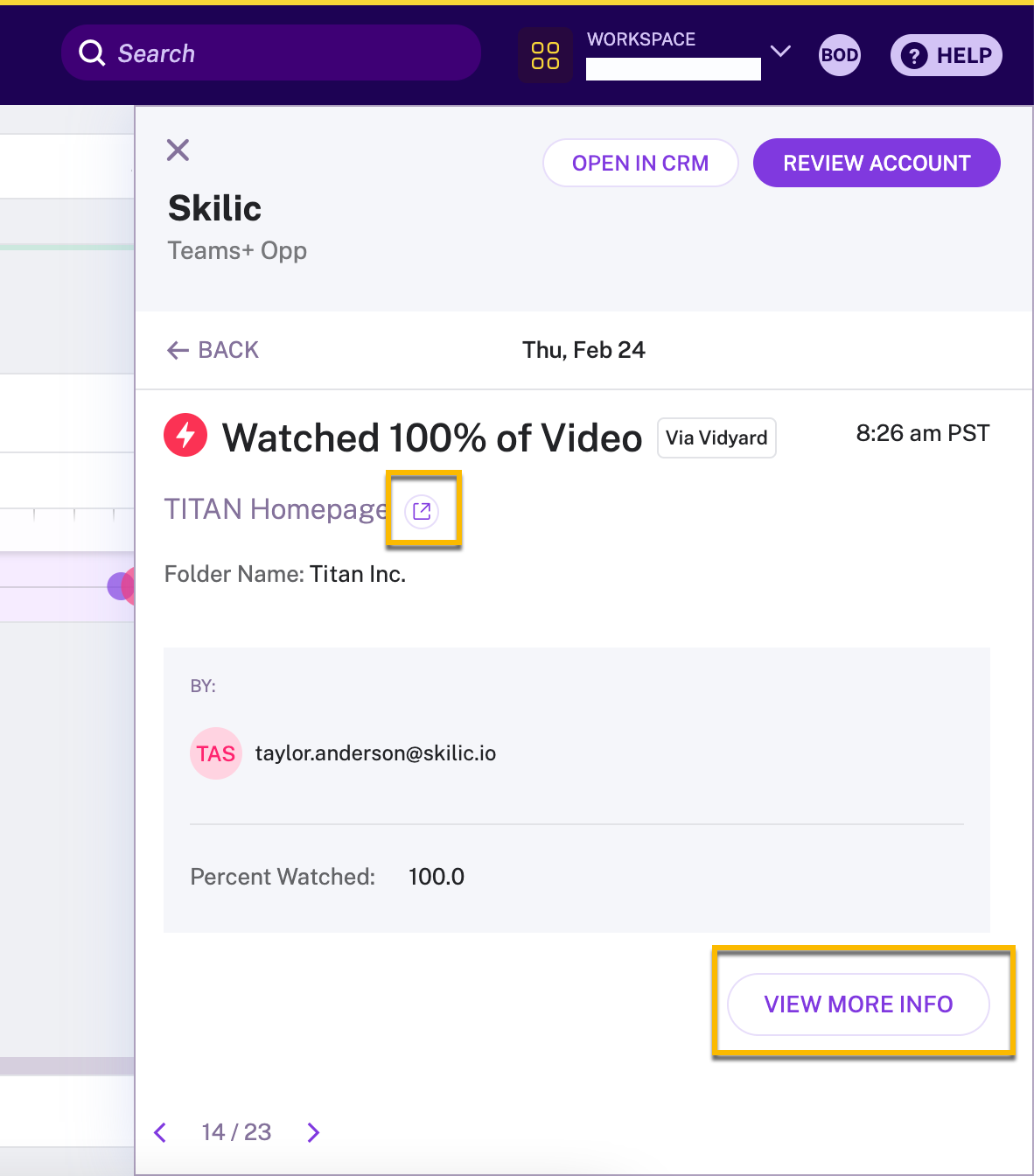 Delete the integration
If for whatever reason you need to delete the Gong integration, you can remove the connection from the integrations page in Vidyard.
Deleting the integration does not delete any video engagement data in Gong.
Select Admin > Integrations from the main menu
Open the menu (3 dots) next to Gong, then click on Delete
Select Delete again to confirm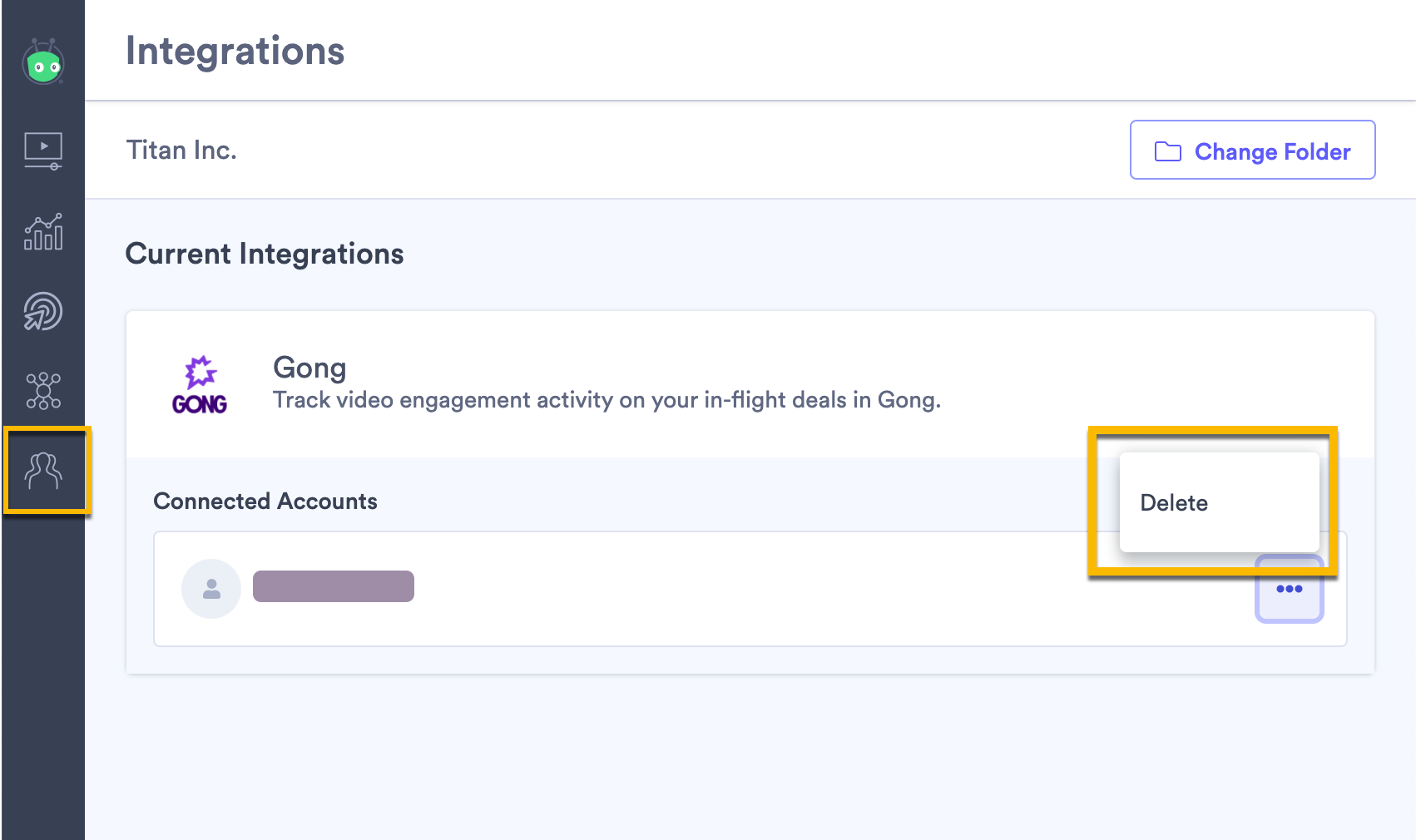 Frequently asked questions
What access does Vidyard have to my Gong account?
When you connect Vidyard to Gong, you are asked to allow Vidyard to access Gong's public API in order to send user engagement data events to Gong.
Specifically, this requires write access using the following API scopes: api:engagement-data:write
Does Vidyard backfill data from before the integration was connected?
No. Vidyard will not pass any data to Gong that was collected from identified viewers prior to the integration being connected.
Similarly, Vidyard will not pass any data to Gong if the viewer is not identified, even if the viewer becomes identified later on. Only new video views from an identified viewer will pass to Gong.
How are video engagement events assigned if a contact is duplicated across multiple deals?
If a contact with the same email address is duplicated across multiple deals, the video engagement event will be associated with each of the deals where the contact is listed.
Does the integration work with multiple Gong workspaces?
The integration does not currently support multiple Gong workspaces. When you set up the integration, Vidyard connects to the initial default workspace in Gong.
All video engagement events are matched to Deals within the initial workspace only.
Can I connect Vidyard to more than 1 Gong account?
You can only connect 1 Vidyard account to 1 Gong account.
How does Gong work with Vidyard's Salesforce or HubSpot integrations?
Vidyard's integration with Salesforce and HubSpot CRM are independent from the integration with Gong. They do not rely on each other or overlap in any way.