Additional Requirements: you must belong to a Team with the Edit integrations permission enabled
---
The Vidyard integration for HubSpot CRM allows you to gather powerful insights about your audience to better optimize, automate, and personalize your marketing and sales efforts.
Push actionable analytics to your contacts' timelines in HubSpot
Use video engagement data to segment, qualify, and nurture leads based on how they interact with your video content
How does it all work? The integration uses HubSpot's timeline API to pass video view data to your contact records.
Data is passed whenever a viewer can be identified. With the HubSpot tracking script on the same page as the video, Vidyard and HubSpot work together to understand who your viewers are, what videos they watched, and for how long.
You can even configure the integration to create a new contact whenever Vidyard identifies a viewer that does not have an existing record in HubSpot.
And what about all those unidentified viewers? Don't worry—we'll hold onto that valuable data until either Vidyard or HubSpot can learn who your viewer is, then backfill the data to their record.
Connect Vidyard to HubSpot
From the Vidyard dashboard, select Admin > Integrations
Click Connect
You will be asked to authenticate to HubSpot. If you have more than one HubSpot account, select which account you want to integrate with Vidyard.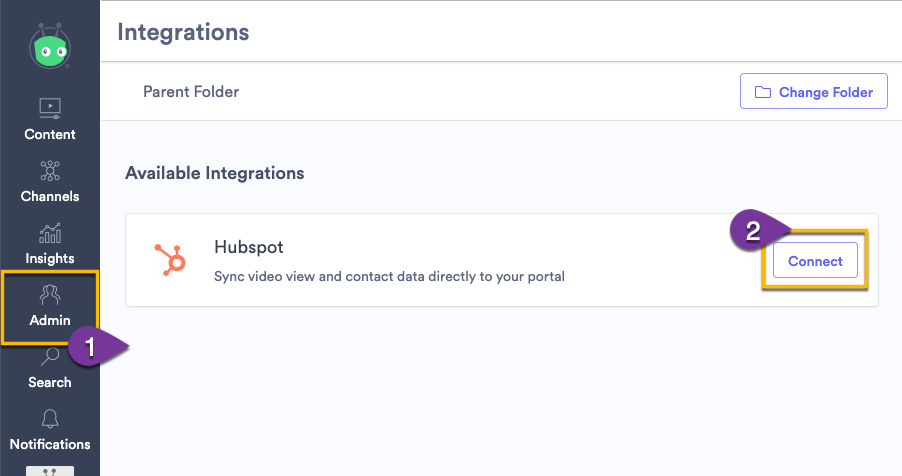 Optional: Allow Vidyard to create new contacts
Vidyard offers powerful tools to ensure that anyone who watches your videos becomes an identified viewer. For example, you might identify someone through a lead capture event (CTA) or a video email message that contains a tracking token.
If an identified viewer matches a contact already in HubSpot, Vidyard will send a video view event to the viewer's contact timeline.
Additionally, you can also configure the integration so that a new contact is created whenever Vidyard identifies a viewer that does not have an existing record in HubSpot.
Note: HubSpot will indicate that contacts created by Vidyard through the integration were "created from an Offline Source".
Click on the dropdown menu next to the HubSpot integration, then select Configure
Select Allow Contact Creation, then click Configure
View video data on a contact's timelines
The magic of the Vidyard integration comes with the video view data that gets pushed to your HubSpot account. Just make sure to enable the Vidyard for HubSpot filter on your contact timelines.
You'll receive both video view events (a registered view that contains additional details about the video and how long it was watched), as well as form fill events (whenever someone submits, or "converts" on, a Vidyard form).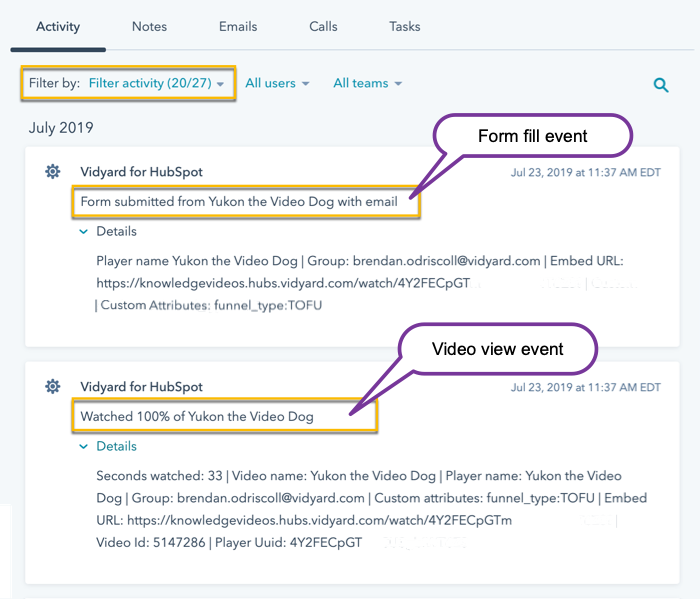 Video view events
Below you'll find details about the video data that Vidyard sends to a contact timeline whenever an identified viewer watches a video.
Data Type
Description
Percentage watched:
Percentage of video watched
Total seconds watched:
Total number of seconds the video was watched
Video name:
The name of the video watched. (Note:

For players with multiple videos, each video watched will have its own timeline event)
Player name:
Name of the player in which a video was watched
Video Id:
The identifier associated with the video that was watched
Player Uuid:
The unique identifier associated with the player that was watched
Timestamp:
The day and time of when the video was watched
Group:
Name of the group in Vidyard where the video is located
Embed url:
The embed location of the video
Custom Attributes:
Any custom metadata that has been associated with a Vidyard player (see our article on custom attributes for more information)
Vidyard form fill events
Below you'll find details about the form fill event that Vidyard sends to a contact timeline whenever a viewer submits a Vidyard form on your video.
The form must contain an email address as one of the submitted fields.
| Data Type | Description |
| --- | --- |
| Player name | Name of the player in which a video was watched |
| Group | Name of the group in Vidyard where the video is located |
| Embed url | The embed location of the video |
| Custom attributes | Any custom metadata that has been associated with a Vidyard player (see our article on custom attributes for more information) |
Next steps