Vidyard makes it easy for you to embed videos on your website, landing pages—anywhere javascript can be loaded in a browser. No complicated coding required.
Simply copy the responsive embed code and add it to your page's HTML. You'll also benefit from these additional embed code features:
Auto-responsive

Vidyard's embed code is out-of-the-box responsive. As long as your embed location has a responsive containing element, the embed code will automatically conform to the dimension of your webpage.

Minified Javascript

In order to better optimize players for SEO and page load times, the responsive embed makes use of Javascript minification.

Built-in Player API

We've included the Vidyard Player API in the embed code, so you can programmatically manipulate the behavior of a player on any page where the code has been added.
Requirements
You must have the Player Embeds feature as part of your plan with Vidyard
Copy the embed code
From the Vidyard dashboard, click Content > Player
Hover your cursor over a player, then click Share
Under the Responsive Embed option, click Copy Code

Select Use Lightbox to change the code to a lightbox embed
Enter dimensions to force the maximum width and height of the player

Insert the embed into the source code of your webpage.
Fallback to an iframe embed
In circumstances where you want to embed a player in a CMS or system that does not support javascript, use the iframe embed code.
An iframe is used to reference and display a source element external to the webpage (in this case, the Vidyard player).
Players embedded using an iframe cannot identify viewers via third-party MAP cookies through integrations with Marketo, HubSpot, or other marketing automation tools. You also cannot use the Javascript Player API with an iframe.
Simply select the Trouble embedding? checkbox to copy the iframe embed code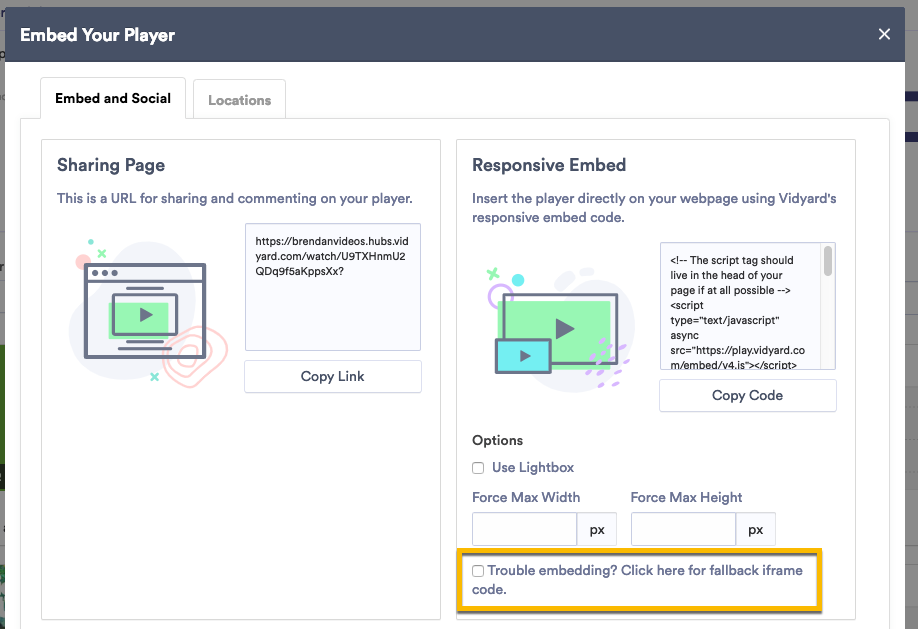 Embed types and marketing automation platforms (MAPs)
One of Vidyard's most powerful features is its ability to integrate with various Marketing Automation Platforms (MAPs) such as Marketo, Oracle Eloqua and Hubspot. How you choose to embed a player on your website impacts how Vidyard communicates with an integrated MAP.
In order for Vidyard to communicate video view analytics to an integrated MAP platform, two things must be present:
Your MAP's tracking cookie must be present on the same page as the Vidyard player.
A javascript Vidyard embed code (the responsive embed) must be loaded on the page.
| | |
| --- | --- |
| Embed type | Can communicate with MAP? |
| Responsive embed (inline or lightbox) | Yes |
| iframe embed | No |
| Vidyard hubs and sharing pages | Yes (see notes below) |
Note
Branded Sharing Pages and Hubs are video embed pages hosted by Vidyard. Because these pages are customizable with HTML, CSS and Javascript, make sure to add a tracking script from your MAP so that the players on the page can pass view analytics to your marketing automation platform.

Add the tracking script from your MAP to your video hub or sharing page.