In a few simple steps, you can record a new video with either your screen or camera directly from the your account library.
Recording videos from your library is particularly useful if you have not yet set up the Vidyard browser extension or are using a browser other than Chrome or Microsoft Edge.
Start a new recording
Open the New dropdown menu from your library, then select Record Video
Choose the type of video you want to record:

Camera: records using your computer's webcam (a "selfie-style" video)
Screen: records your computer's screen
Screen + Camera: records both your screen and camera at the same time

Select Start Recording to begin
Recording your screen
If you choose to record either Screen or Screen + Camera, the browser will prompt you to select which part of your screen you want to share in the recording.
Select a part of your screen:

Your entire screen

(if you have multiple screens, select one)
An application window

(focus in on a desktop app or a full browser window)
A specific browser tab

Within each option, click on the specific screen, application or tab that you want to record
Select

Share, then Start Recording to begin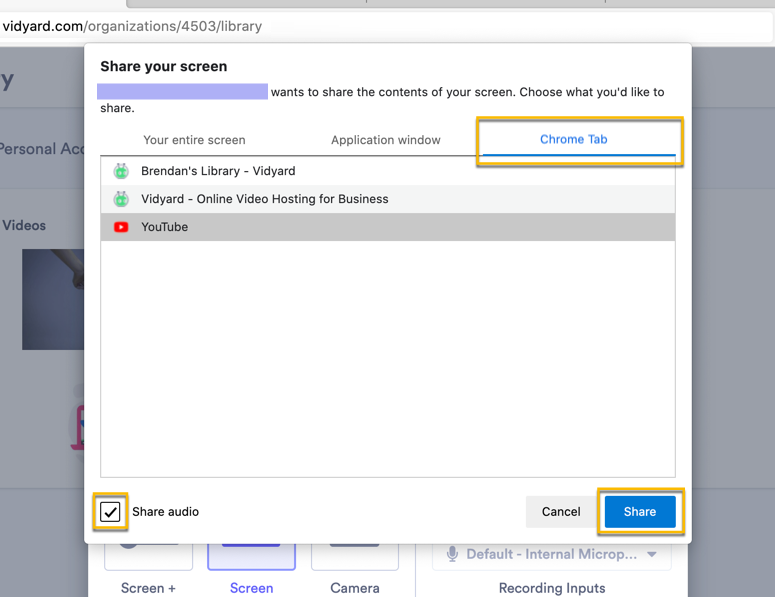 Note: Depending on your device, you may also have the option to Share audio. Learn more about how to capture audio from your computer or browser in your recording.
Background blur and low light camera settings
If you choose to record with the Camera option, you can select several additional settings before recording your video: Mirror camera, Blur background and Adjust to low light.
Select the Camera recording option
Select 1 or more camera settings:

Blur background: select the checkbox, then choose either Low or High intensity from the dropdown menu to obscure the background of your video
Adjust to low light: select the checkbox, then move the slider bar to increase the brightness of your camera in dimly lit settings
Mirror camera: flip your camera so that any text (like a whiteboard or book) is readable in your video

Select Start Recording to begin
Note: the Background blur setting is a BETA feature that can be resource intensive on your computer. It may perform better on newer devices.

Available recording options (by browser)
When recording a video from your account library, the recording options available to you will differ based on the browser that you're using.
For example, Screen + camera recording requires that you use the browser extension (for Chrome or Edge) instead. If you use Safari or Internet Explorer, you should sign in to Vidyard with a different browser to record your video.
Chrome

Microsoft Edge

Firefox

Safari

Camera

Yes

Yes

No

Screen

Yes

Screen capture options:

entire screen
application window
browser tab

Option to capture internal audio while recording browser tab or entire screen

Yes

Options:

entire screen
application window

No

Screen + camera

Use browser extension instead

No

No