Who Can Use This Feature?
Self-Service Plans
Free Pro Plus
Business Plans
Essentials Growth Enterprise
Explore Vidyard's templates to help you record great videos
To help you start creating effective videos, we've introduced templates to guide you through your next recording. Use templates to get inspired, record more confidently, and explore different ways that you can use video to communicate with customers, prospects, and colleagues.
In this article, you'll learn:
What templates are, including the different types
Where to find templates
How to create your own templates
What are templates?
Templates are reusable blueprints to inspire and guide you to create great videos. Each template includes helpful tips for recording, an example video, and sample Speaker Notes to show you how to record and deliver effective videos.
In Vidyard, you'll find templates for different types of videos, audiences, use cases, and stages of the sales cycle.
There are two (2) types of templates — pre-made templates and custom templates.
Pre-made templates are created by Vidyard and industry partners to help you get started and inspire you to create great videos
Custom templates are templates that you create to save and reuse common types of videos that you record, and share best practices with your team(s)
Where to find templates
You can find templates in 2 locations.
The Templates Library in your Vidyard account (select Templates from the main menu)
The Templates Hub (on vidyard.com) includes dozens of pre-made templates from Vidyard and industry professionals in Sales, Marketing, and Support to help get started and create great videos
Select any template to apply it to your next video, or to use as inspiration to get started. ✨
Use a template to record
Once you've found a template that you like, use it to help record your next video.
Sign in to your Vidyard account
Select Templates from the main menu
Hover over a template, then select Use

If you choose to Preview or Edit a template first, you can then select Use Template from the top-right of the preview page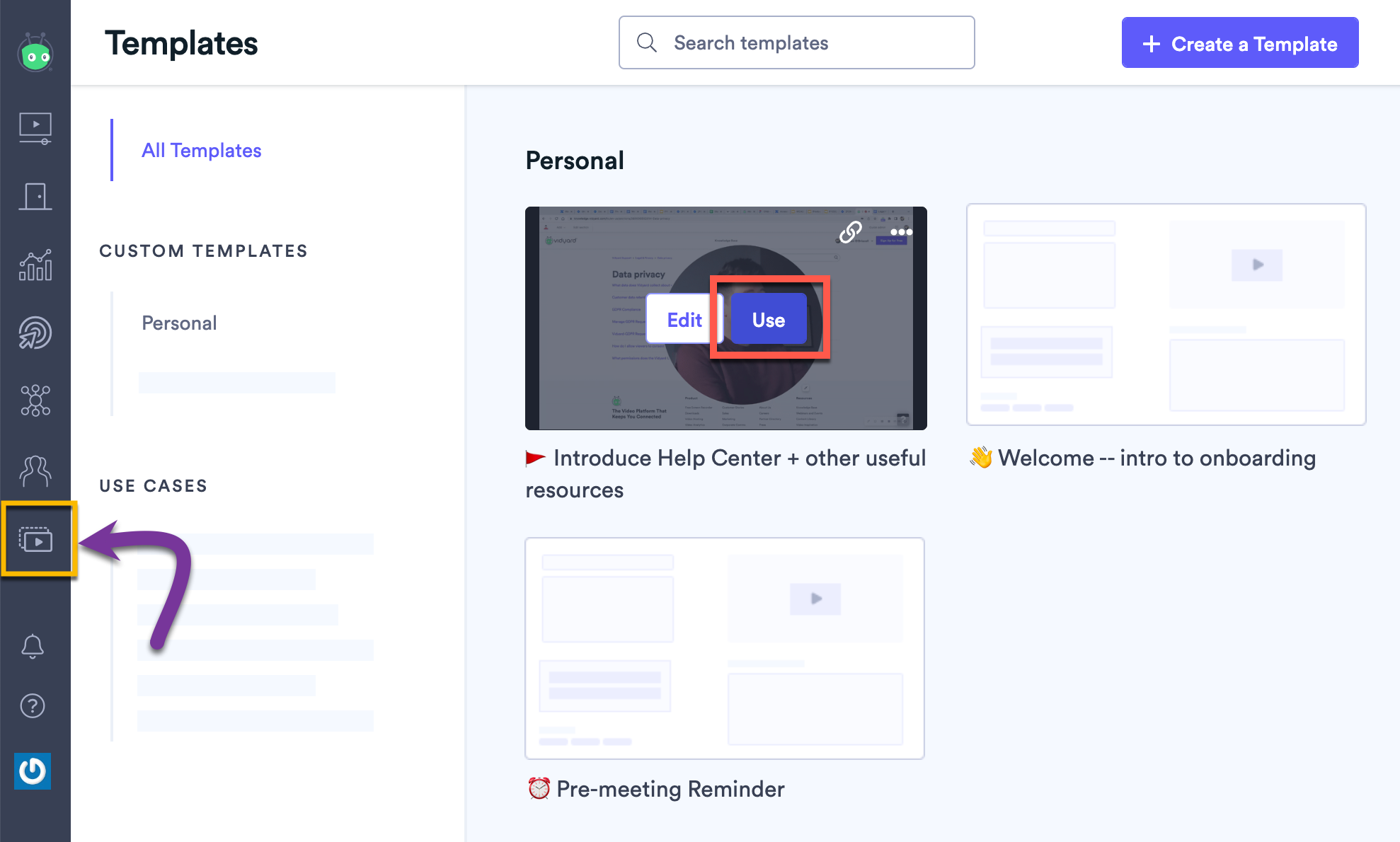 When you select Use, the Vidyard browser extension launches automatically and applies the Speaker Notes from the template to your recording. Review and edit the Speaker Notes to make them your own before you start recording your video.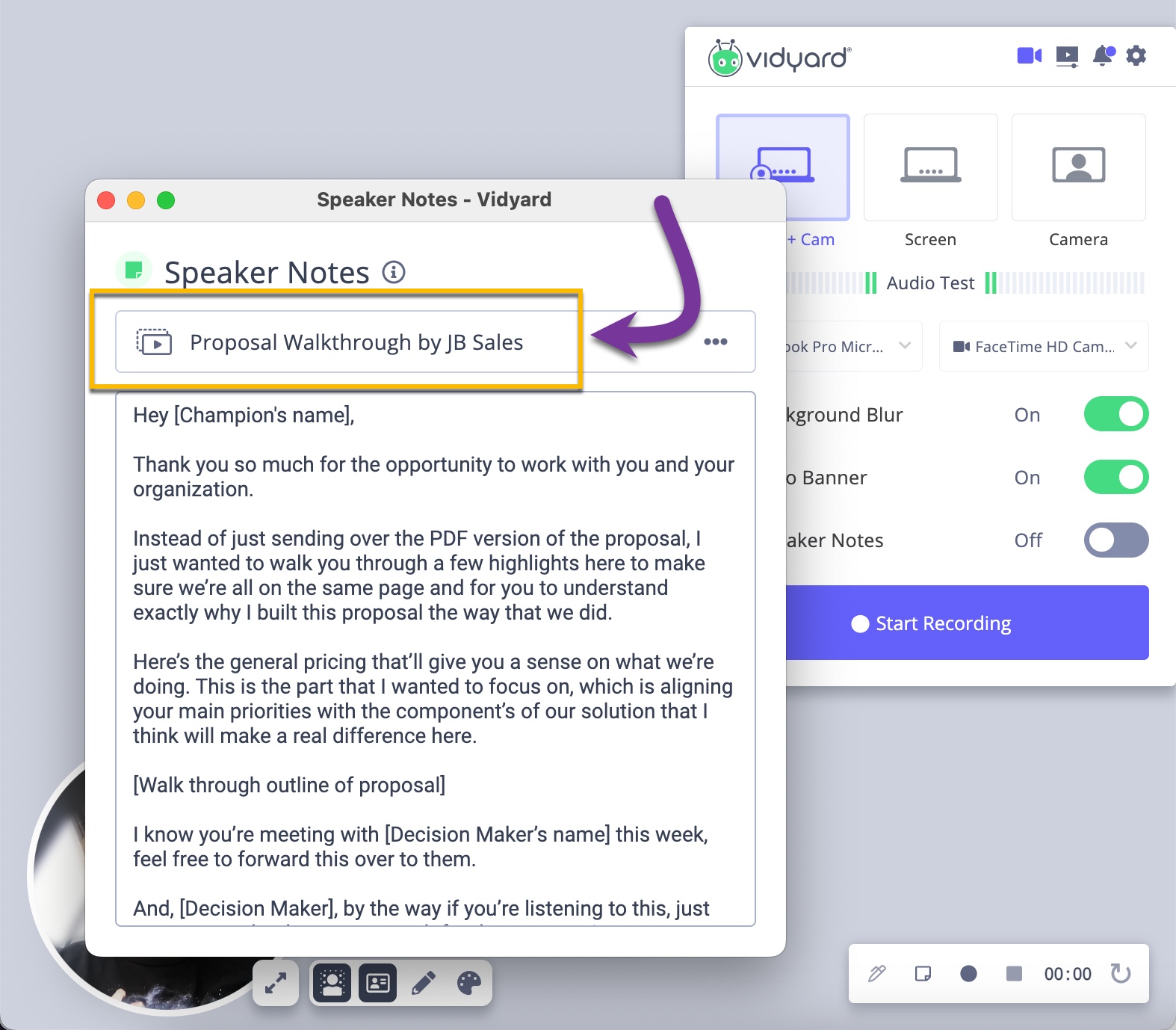 Create your own template

You can create custom templates to replicate common types of videos and save time when you record. You can also use custom templates to share successful videos and best practices with your team members.
As you continue to use video and learn more about what works well, you can update a custom template to refine your process and messaging.
Templates that you create appear under Custom Templates > Personal in your templates library.
Select Templates from the main menu
Click on + Create a template in the top-right corner of the page
Give your template a Title, add an Example Video, and Speaker Notes

Any changes you make are saved to the template automatically
When finished, you can use the template in your videos and share it with other people that you collaborate with in the same Vidyard account.
The following table outlines each aspect of a template that you can customize.
Item
Description
Template Title
The name of your template. Use a descriptive title to help other users find the template and understand what it's for.
Template Description

Explains the purpose of the template, who it's for, and when it should be used.

Recommended video length

Suggest to others how long a video that uses the template should typically be.

Select from a list of provided durations (under 60 seconds, 1-2 minutes, 2-4 minutes, 4+ minutes)

Recommended recording style

What style of recording should be used with the template (Camera only, Screen, or Screen + Cam).

When a person uses the template, the browser extension will open with this recording style pre-selected.

Other tips
Additional tips you'd like to note for anyone using the template.
Video Example

An example video that shows others what a video using the template looks like.

Add an existing video from your library, record a new video, or upload a video from your computer. You can remove or replace the example video at any time.

Speaker Notes

Enter notes, a script, reminders — anything that you might need to refer to while recording a video. Leave placeholder text that other users can replace and customize with their own details.

Any text added here is applied to the Speaker Notes in the browser extension when this template gets used.
Duplicate a template
Like someone else's template, but want to make it your own? You can duplicate any Vidyard-created templates or templates that others have shared with you, then make your own changes.
Duplicated templates appear under your personal templates (Custom Templates > Personal) in the Template Library with the name "Duplicate of [template name]".
Select Templates from the main menu
Hover over a template, then open the menu (3 dots) in the top-right corner of the thumbnail
Select Duplicate to create a copy

If you're a Viewer on a shared template, instead select Duplicate to Personal Templates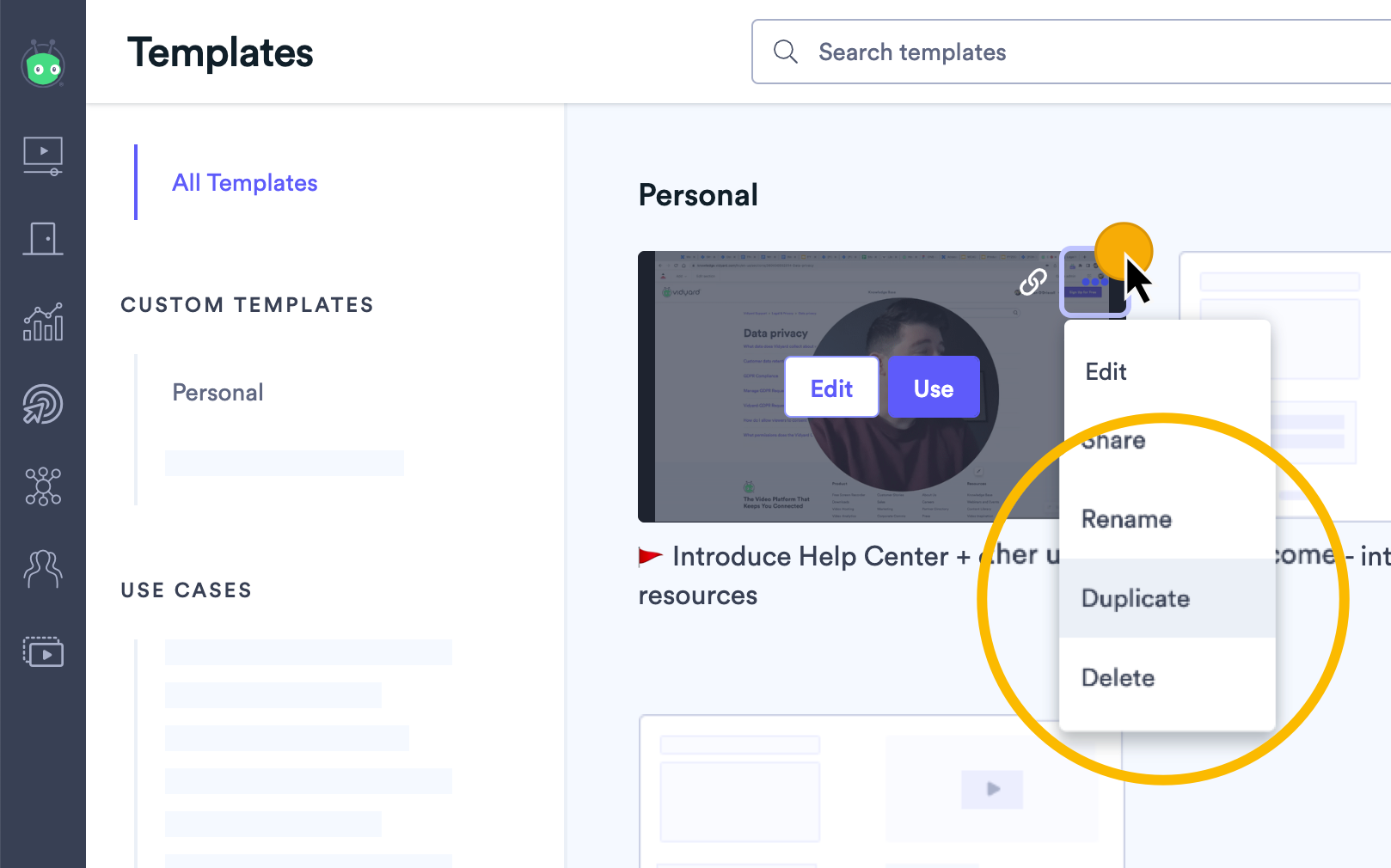 Edit or delete a template
You can edit existing templates that you own, as well as any shared templates where you've been made an Editor.
Any changes made to a template are saved automatically and appear to anyone else who has access to the template.
Select Templates from the main menu
Hover over a template, then select Edit
Make any changes to the template, as needed
If you need to delete a template that you own, hover over the template in your library and open the menu (3 dots) in the top-right corner. Select Delete, then confirm your choice.
Deletion is permanent and cannot be reversed.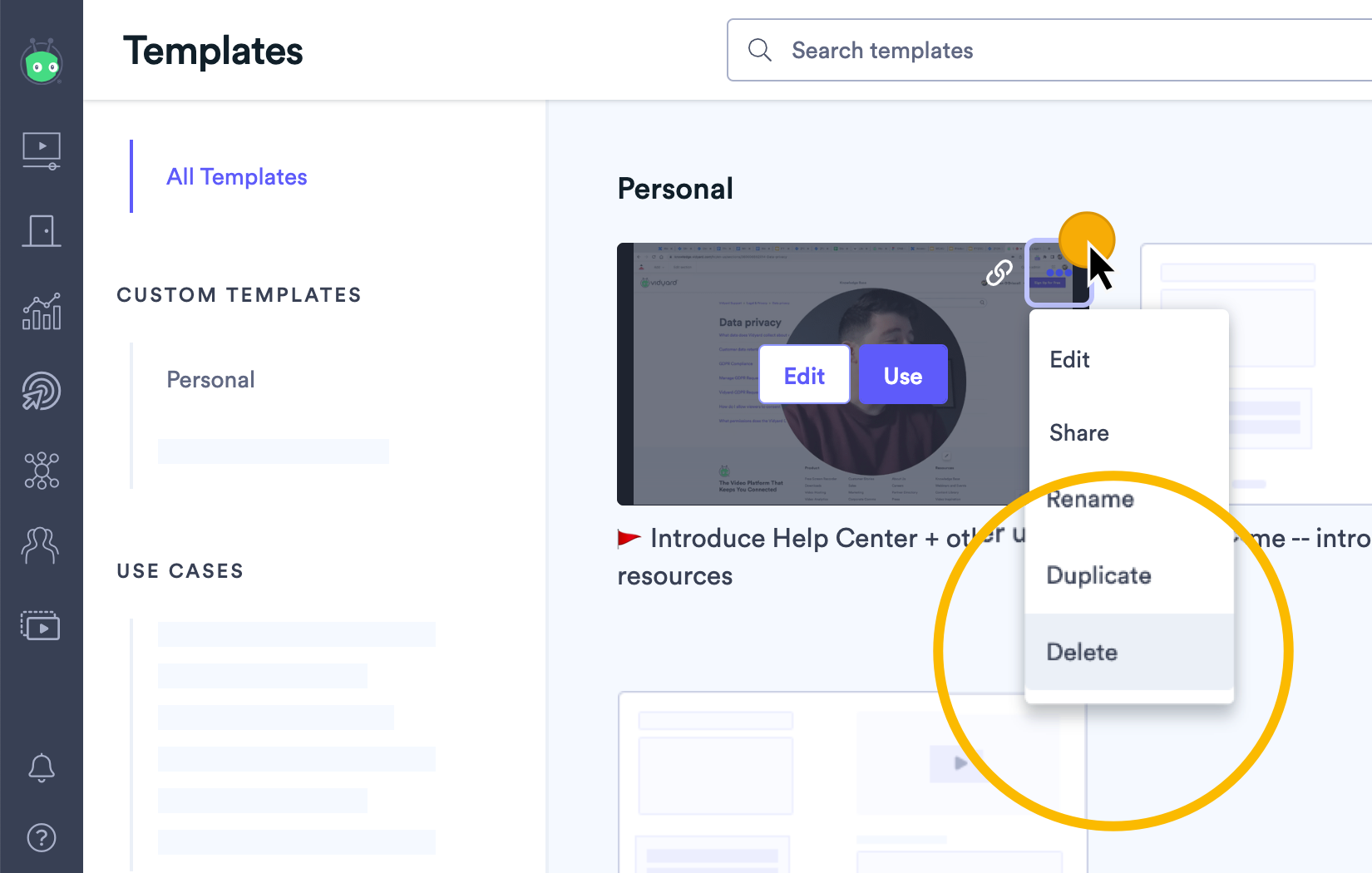 Change or remove an in-use template
You can change the template that you use to record at any time by selecting a new template from your library in Vidyard. You can also change or remove an in-use template from your speaker notes in the browser extension.
Open the Vidyard browser extension
In your Speaker Notes, open the menu (3 dots) next to the template name
Choose an option:

View Current Template - go to the current template in your library to edit or make changes
Explore Templates - go to your template library to select a different template to use
Clear Template - remove the current template from your speaker notes to start with a blank canvas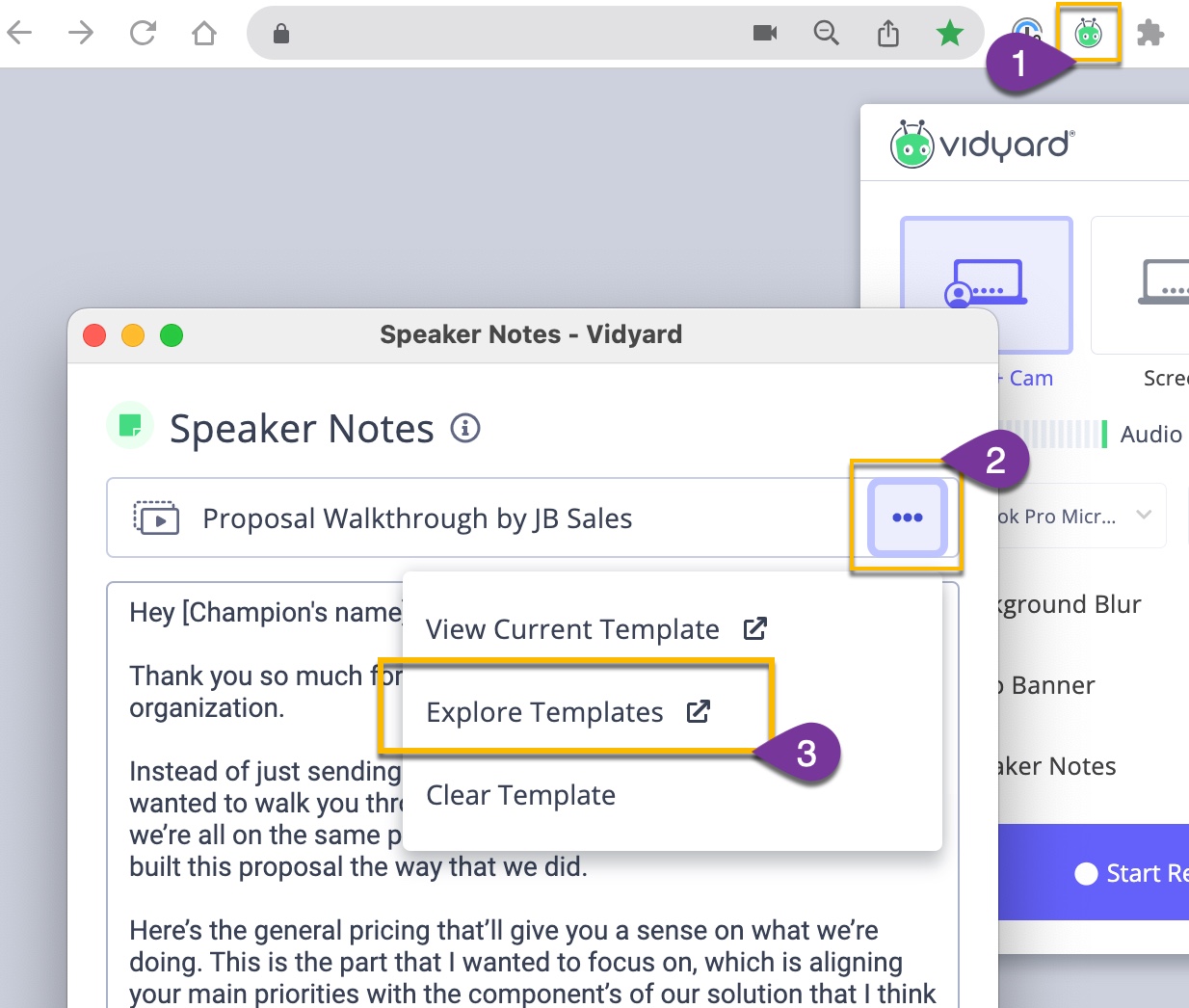 Frequently asked questions
Can I see a history of changes made to my template?
No – at the moment you cannot see the editing history of your template. Moreover, you cannot revert back to a prior version of the template once changes have been made.
Can more than 1 person edit a template?
In Workspaces or Business Accounts (Essentials, Growth, or Enterprise), anyone who you've shared the template with as an Editor role can edit the template.
Be aware that more than 1 person may attempt to make changes to a template at the same time. This may mean that changes made by one person do not save.