So you've produced and edited your personalized video project? Now it's time to submit the project to Vidyard so that it can be personalized!
This article outlines how to securely submit a personalized video project to Vidyard.
It also indicates how the project file and any additional assets (including licensed fonts, video file) should be structured in a folder.
Requirements
Submit your personalized video project
Sign in to the Vidyard platform to submit your project:
From the Vidyard dashboard, select Content > Personalization
Choose the Upload tab
Use the uploader box at the bottom of the page to give your file a descriptive name
Click Choose File, then upload the following:

a .zip file (less than 2GB in size) that contains: an Adobe After Effects project (.aep file), a copy of your video (.mp4 or file), and a folder with all licensed fonts.
if necessary, a .csv file (less than 10MB in size) that contains: the details of your intended video recipients required for personalization (for example: first name, company, etc.)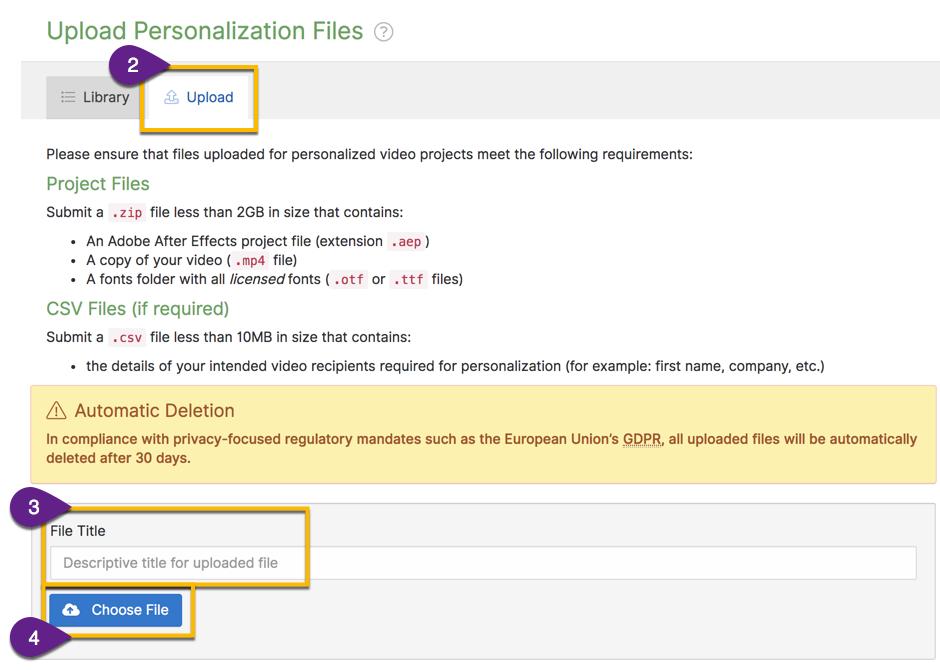 Example project file
Refer to our example of how to structure your .zip file.
My-Awesome-Project/
+ Fonts/
+ Assets/
+ template.aep