Who Can Use This Feature?
Self-Service Plans
Free Pro Plus
Business Plans
Essentials Growth Enterprise

Use a link for easy sharing 🔗
Copying a link to your video is the easiest way to start sharing with Vidyard. Share the link wherever your viewers are—in an email, in a direct message, on your social feed, or a webpage.
When a viewer clicks on the link, they're taken to your video's dedicated sharing page to watch the video. Here's an example of a video on a sharing page.
Share a direct link to your video
You can copy a direct link to your video almost anywhere you use Vidyard — from your library, the browser extension, desktop app, and more. Simply paste the link anywhere to share your video with others.
Select a tab to learn more:
Select Share next to a video in your library
Select Copy link
Open the Vidyard browser extension in Chrome or Edge
Select the Library icon
Hover over a video and click on the copy link button
Tip: Turn on Copy link to clipboard in your recording preferences to automatically copy the link to your new video when you finish recording.
Open the Vidyard desktop app
Select the Library icon
Click on the copy link button
Open the Vidyard mobile app
From your library, slide a video to the left to reveal more options
Select the share button to copy a link or post directly in another app
Share your video's link & thumbnail
Using Copy link and thumbnail lets you share both your video's link and thumbnail image at the same time. This is an eye-catching way to get your viewer to click and watch.
You can paste the link and thumbnail into any editor that supports rich text, like Gmail, Outlook, Google Docs, Apple Mail, and many others.
Select the Share button next to a video in your library
Click on Copy link and thumbnail
Paste the link to share with your viewers

Link to a specific time in the video
With a little extra know-how, you can change your sharing link for a video so that it starts to play for your viewer at a specific time. 
Simply add ?second= to the end of the URL, then add the second you want the video to start at. For example: https://share.vidyard.com/watch/JyLgiYuZ928Q6w?second=30
For a simpler alternative, you can select the Sharing button in the top-left corner of a playing video on your sharing page or website. Select Copy Sharing Page Link at Current Time to link someone to your current timestamp in the video. This option is only available if Sharing has been enabled in the video's design settings.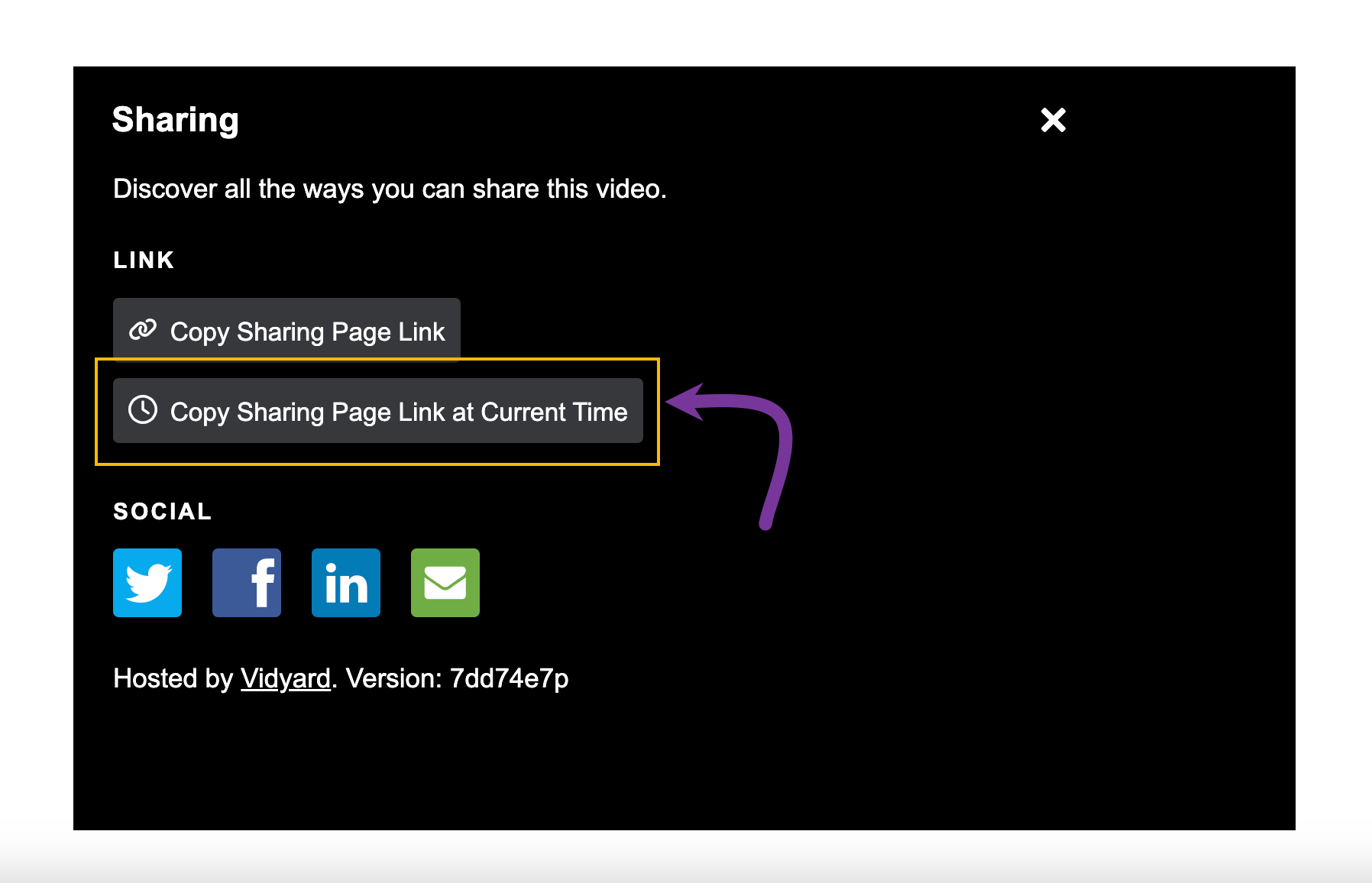 If you've added chapters to your video, you can also choose to link directly to a chapter.
Link to a video chapter
If you add chapters to your video, you can copy and share a link directly to a specific chapter. 
Select a video from your library to open the edit page. Then go to Video > Chapters and copy the link next to a chapter.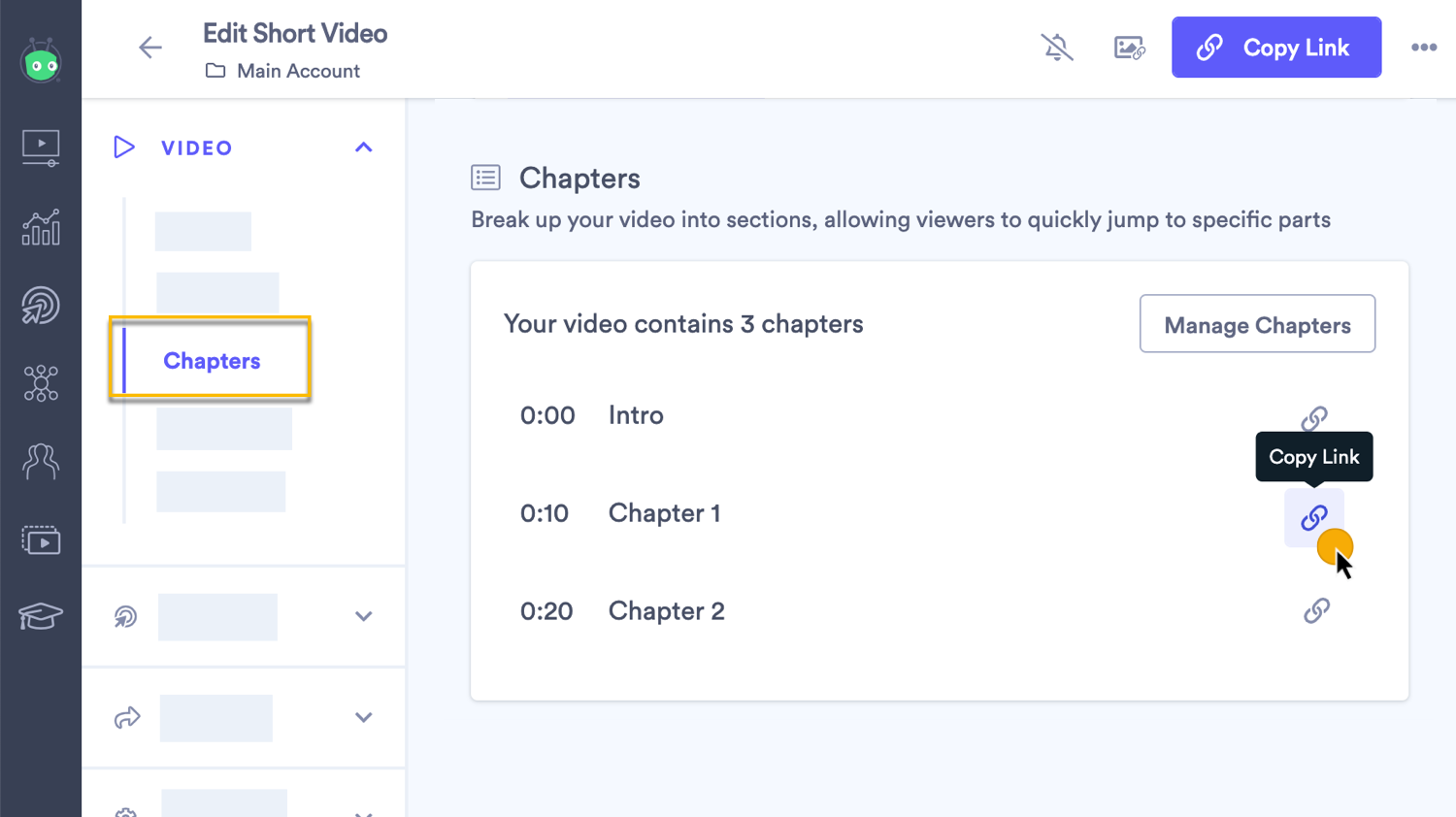 Share a link to your social channels
Just like sharing a direct link, sharing a video to your social channels is as simple as pasting the link into a new post on your LinkedIn, Twitter, or Facebook feed.
Most sites will use the link to create a preview of your video, including its title, thumbnail, and description.
You can also use the social sharing options in your Vidyard account to automatically add the video link to a post.
Select the Share button next to a video in your library
Click on a social icon to share the link
Share a video link with tracking
When you copy a link to your video from its edit page, you can enter the email address of your viewer to create a unique sharing link with a tracking token.
A link with tracking ensures that you identify your viewer so that you can see who they are and how much they watched in your video insights.
Select a video from your library to open the edit page
Select Share Link in the top-right corner
Enter the email address of your recipient (eg. trevor@vidyard.com), then select Personalize to create a unique video link with tracking
Copy the link and share it with your viewer

Copy Link gives you the video's sharing URL with a tracking token
Copy Link & Thumbnail gives you the video's sharing URL and linked thumbnail image, both with a tracking token