The Vidyard Chrome extension allows you to create and share videos with your customers, prospects, and colleagues⁠—all in just a few clicks.
You can share videos with your audience through several different channels:
Share a link to your videos
Send videos in a Gmail message
Post videos to your social channels (LinkedIn, Twitter, Facebook, YouTube)
Requirements
You must have a Vidyard account
Choose a video to share from your library
You can share a video or playlist at any time from the video library.
Click on the Vidyard extension in the top, right-corner of your browser
Click on the Videos tab, then select Go to Library
Hover over the video you want to share, then click Share
Share a link to your video
A link is the simplest way to share your videos. When your recipient clicks on a link, the video will open on a sharing page for them to view.
Choose Copy link to provide someone with a simple hyperlink to your video.
Choose Copy link and thumbnail to paste a hyperlinked thumbnail image of your video onto almost any HTML editor (Google docs, Outlook, Gmail, WordPress, Zendesk, Outreach, Salesloft, + more).
Share videos to social
Sharing videos to your social channels is an effective way to get your content in front of a larger audience.
Click on a social platform's icon to share your video.
Facebook: post a video to your News Feed or your Story
LinkedIn: share a video in a post or as a private message to 1st degree connections
Twitter: share a video to your Twitter feed
YouTube: push a video to your YouTube channel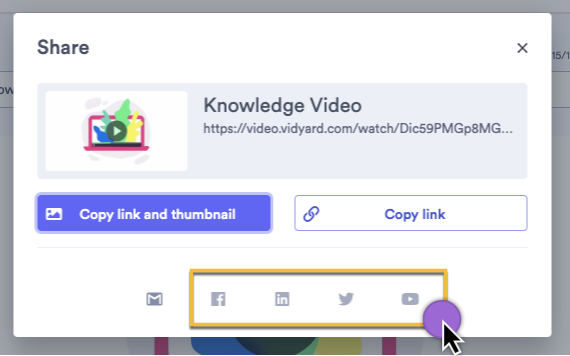 Learn more about how to videos shared to social behave
Share a video in a Gmail message
Click on the Gmail icon to add a hyperlinked thumbnail of your video to an email message. The thumbnail will open the video on a sharing page for your recipient to watch.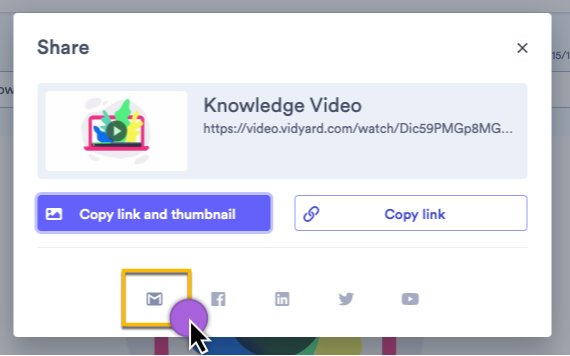 A video tracking token is added to the sharing link when an email recipient is indicated. The tracking token allows you to receive a notification when the recipient watches your video.
Learn more about how Vidyard identifies viewers