Who Can Use This Feature?
Business Plans
Essentials
Growth
Enterprise
When you sign up for Vidyard, your account is free and tied to you as an individual user. Your Vidyard account allows you to create or join a shared workspace to collaborate with other Vidyard Free users who use the same business email domain (for example, @vidyard.com).
In this article, you'll learn about,
What is a workspace?
A workspace is a collection of people that collaborate to create and share videos in a central, organized library.
Workspaces consist of people with Vidyard Free accounts that use the same business email domain (for example, @vidyard.com). People who use a personal email address (such as @gmail or @outlook) cannot create or join a workspace.
Your workspace allows you and your colleagues to:
Create and share videos together, learning from each other's successes
Organize videos into shared folders to collaborate with your peers
Invited unlimited people with Vidyard Free accounts from your company to join the workspace
Who can use workspaces?
Anyone with a Vidyard Free account that uses a business email address can create or join a workspace.
Your Vidyard Free account must use a business email address (e.g. myemail@vidyard.com). You cannot use a personal address with a domain like @gmail or @outlook.
You can only have 1 workspace per business email domain
If a paid Business plan already exists for your company's email domain, you cannot create a workspace for people with Vidyard Free accounts
Navigate your workspace
Your workspace contains several key features to help you create, share, and collaborate with video:
Your shared video library: select videos from your library to edit and share with prospects, customers, and colleagues.
Upload and record videos: use the New menu to add videos and folders to your library

Upload videos from your computer
Record new videos with the Vidyard browser extension. Videos that you record are uploaded directly to your personal folder
Create new folders to organize videos and collaborate with your peers

Folders and breadcrumbs: switch between your personal and shared folders to access different videos.

Refer to the breadcrumbs at the top of the library to see what folder you're currently located in (for example, Acme Workspace > Product Demos)

Search: use the search bar at the top of the library to find videos and folders in the workspace
Notifications: open the Notifications menu to get updates about who's watched your videos, activity in your Rooms (visits, @mentions), and sharing templates
Get Help: select the icon to ask a question, watch video walkthroughs, or contact support
People in your workspace
Anyone who joins the workspace has full access permissions. All workspace members can:
Invite or remove people from the workspace
Rename the workspace
Edit videos (their own or other people's)
View and access all folders (personal and shared)
Move videos between folders
Create and delete folders
Review your workspace leaderboard
The homepage in Vidyard features a leaderboard with your top 6 workspace members, ranked by the number of videos each person has created with views. Use this list to see who your most active team members are, and create healthy competition. You can also:
Grow your team — choose Invite New Member if you have less than 5 people in your workspace
Check out your colleagues' videos — click on a person's name in the leaderboard to see their video library
To see the leaderboard, sign in to your account and select the Vidyard icon in the top, left-hand corner to go to the homepage.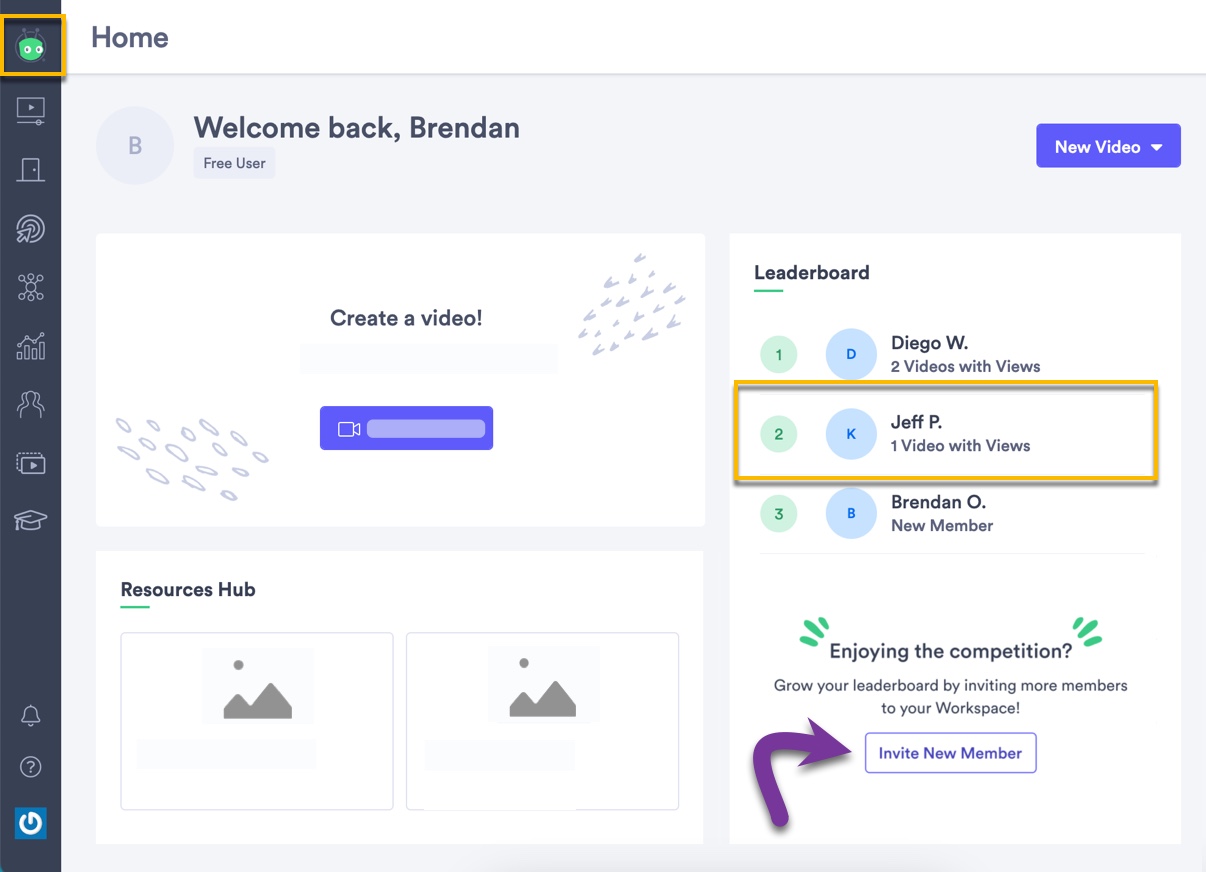 Shared versus personal folders
There are 2 types of folders in a workspace: personal folders and shared folders. You can create new shared folders at any time and move videos between shared and personal folders to stay organized.
Your personal folder helps you organize and manage the videos that you create with Vidyard. Whenever you record a new video with the browser extension, desktop app, or web app, the video automatically uploads to your personal folder.

Each person is given a personal folder when they join or accept an invitation to a workspace. Personal folders are named with the following format:
Personal Account - emailaddress@company.com

Shared folders allow people in your workspace to bring together related videos according to a common goal, theme, purpose, or project. Use shared folders to stay organized as a workspace and highlight successful videos to re-use or emulate.