Who Can Use This Feature?
Self-Service Plans
Free Pro Plus
Business Plans
Essentials Growth Enterprise
There are multiple ways to sign in to your Vidyard account, whether you're using a web browser, the Vidyard browser extension, desktop app, or the mobile app on your phone (iOS & Android).
Your sign-in options
Open the Vidyard sign-in page in a new browser tab. Enter your email address into the Email field, then click Next.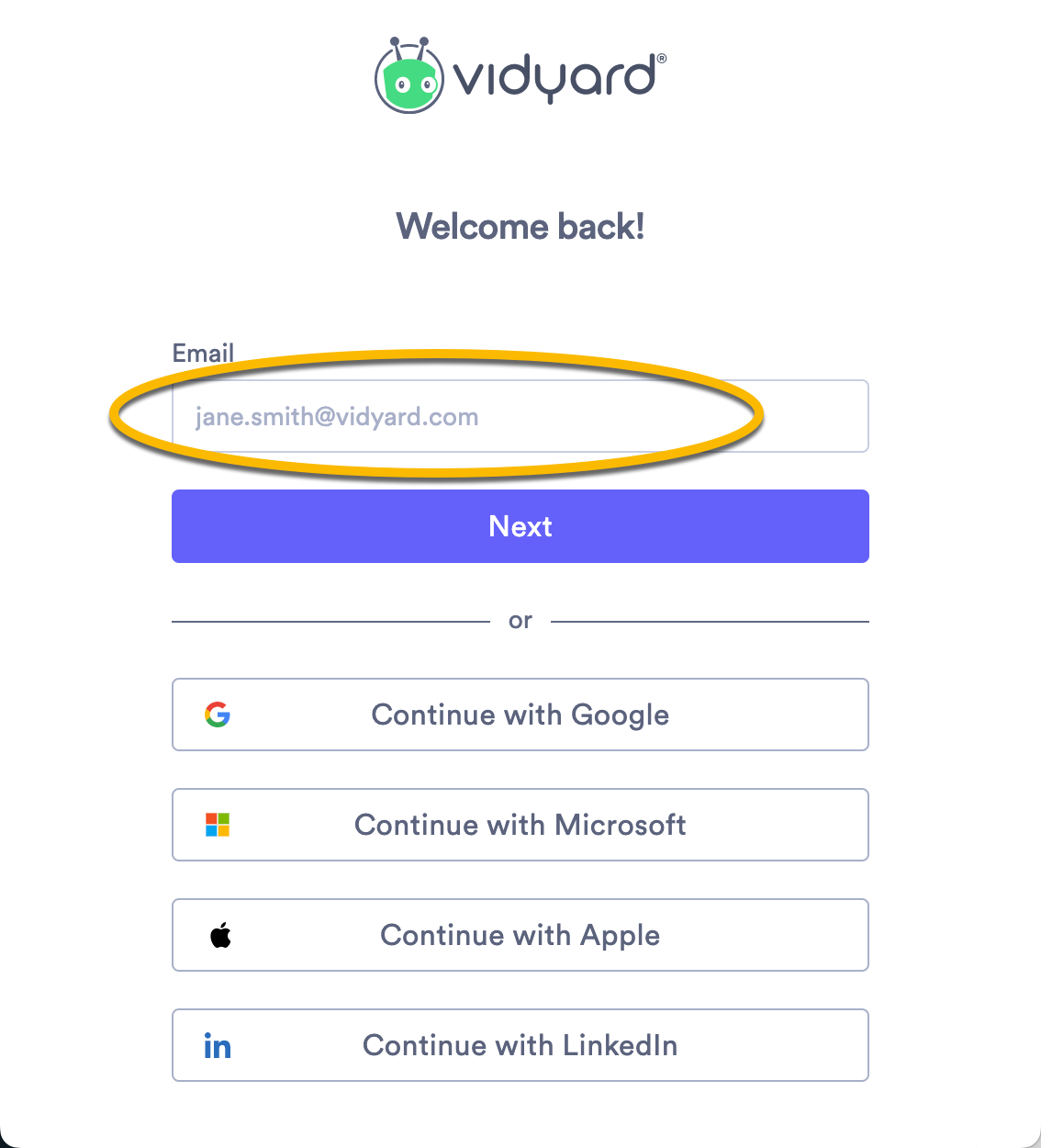 Based on your user's email address, Vidyard will provide you with a set of sign-in options that are permitted for your account. Your sign-in options may include:
| | |
| --- | --- |
| Sign in-option | Which plans can use this option? |
| An email address + password | All plan types (Free and above) |
| A trusted third-party account (your Google, Apple, LinkedIn or Microsoft account) | All plan types |
| Single sign-on (SSO) via your company's identity provider system | Available to users on Business plans only (Essentials, Growth or Enterprise) |
Signing in with SSO
The sign-in option to Continue with SSO is available if you belong to an account with a Vidyard Business plan (Essential, Growth or Enterprise) and administrators have set up SSO to manage user access.
Single sign-on (SSO) allows you to seamlessly access Vidyard so long as you're signed in to your company's identity provider system: Okta, Azure, OneLogin, G Suite, or many others.
Depending on your company's security policies, Continue with SSO may be the only sign-in option you are allowed to use when accessing Vidyard.
Enter your email address into the Email field
Select Continue with SSO

You will be directed to your company's identity provider to sign in (Okta or Google, for example), if you're not already 

After successful sign in, you will be sent back to Vidyard and let into your account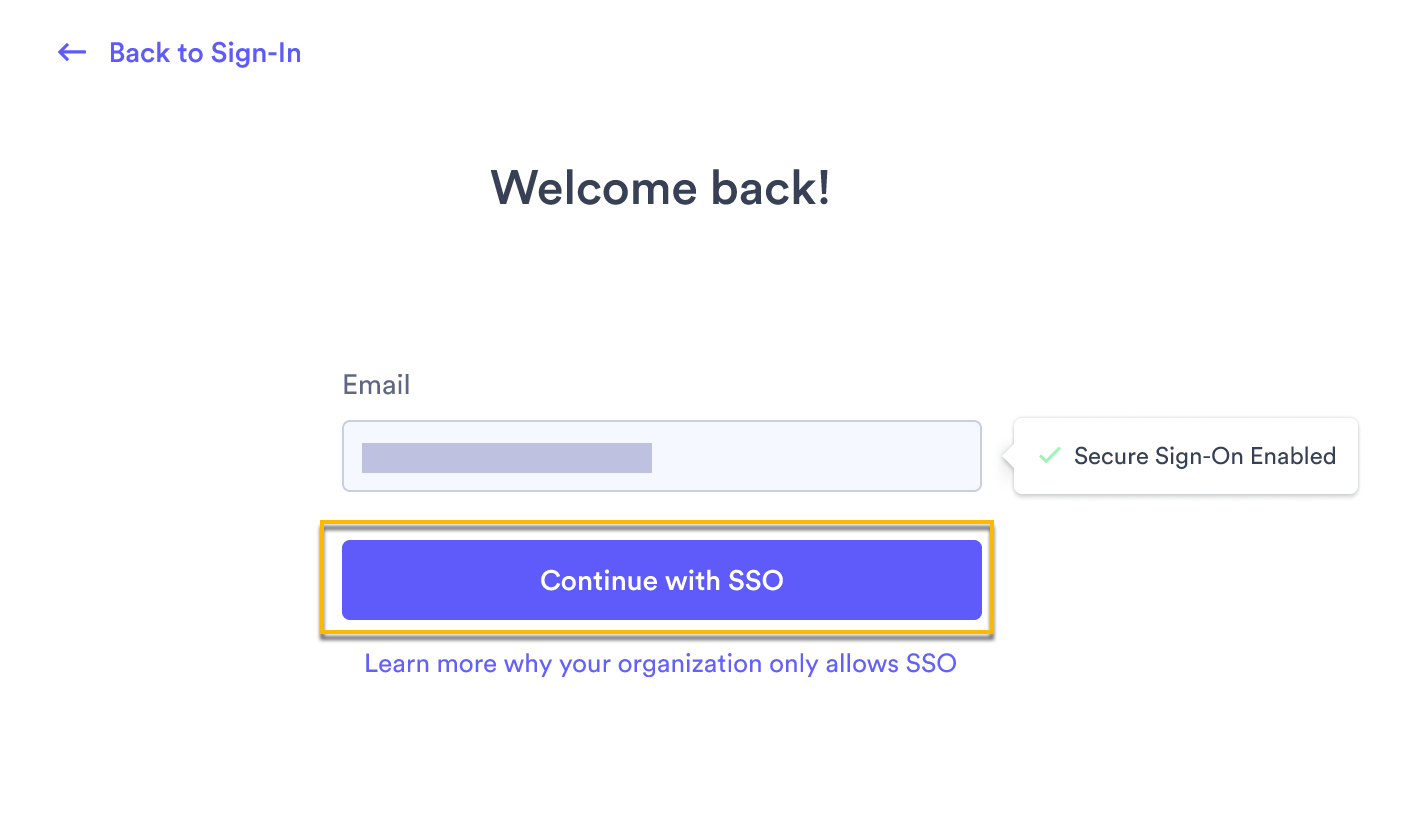 Having trouble signing in?
Resetting your password
If you've forgotten your password, you can request a password reset. We'll send you an email with instructions to update your password.
If you don't see this email come through to your inbox, please check your spam folder or reach out to your IT team to make sure info@vidyard.com is added to your company's email allowlist.
General troubleshooting steps
Double-check the email address you are using. If you have multiple Vidyard accounts, ensure that you're signed in using the correct email address


Make sure you're using a supported browser or compatible OS version


Try signing in with an incognito window. If you can sign in while using Incognito mode but not your regular browser, there may be an issue with the cache of your normal browsing session
        If using the browser extension, you'll need to allow the extension to open in Incognito


Try clearing your browser cache and then restarting your browser. Your browser cache stores data from the websites you have visited, which can affect site and app functionality.
         Learn how to clear your browser's cache: 
Try signing in with another network (a different wi-fi or cellular network) to see if the issue is network-related. If you are able to sign in from another network, contact your IT team or network administrator to trouble the network issue.


Ensure that first and third party cookies are enabled in your browser settings:

In the upper right of your Chrome browser, click on the three vertical dots, then select Settings
In the Privacy and security section, select Cookies and other site data
Ensure that Allow all cookies is selected, and that no third party cookies are blocked for Vidyard

If you'd like to remain signed in, also make sure that clear cookies and site data when you close all windows is disabled

Try to sign in to Vidyard again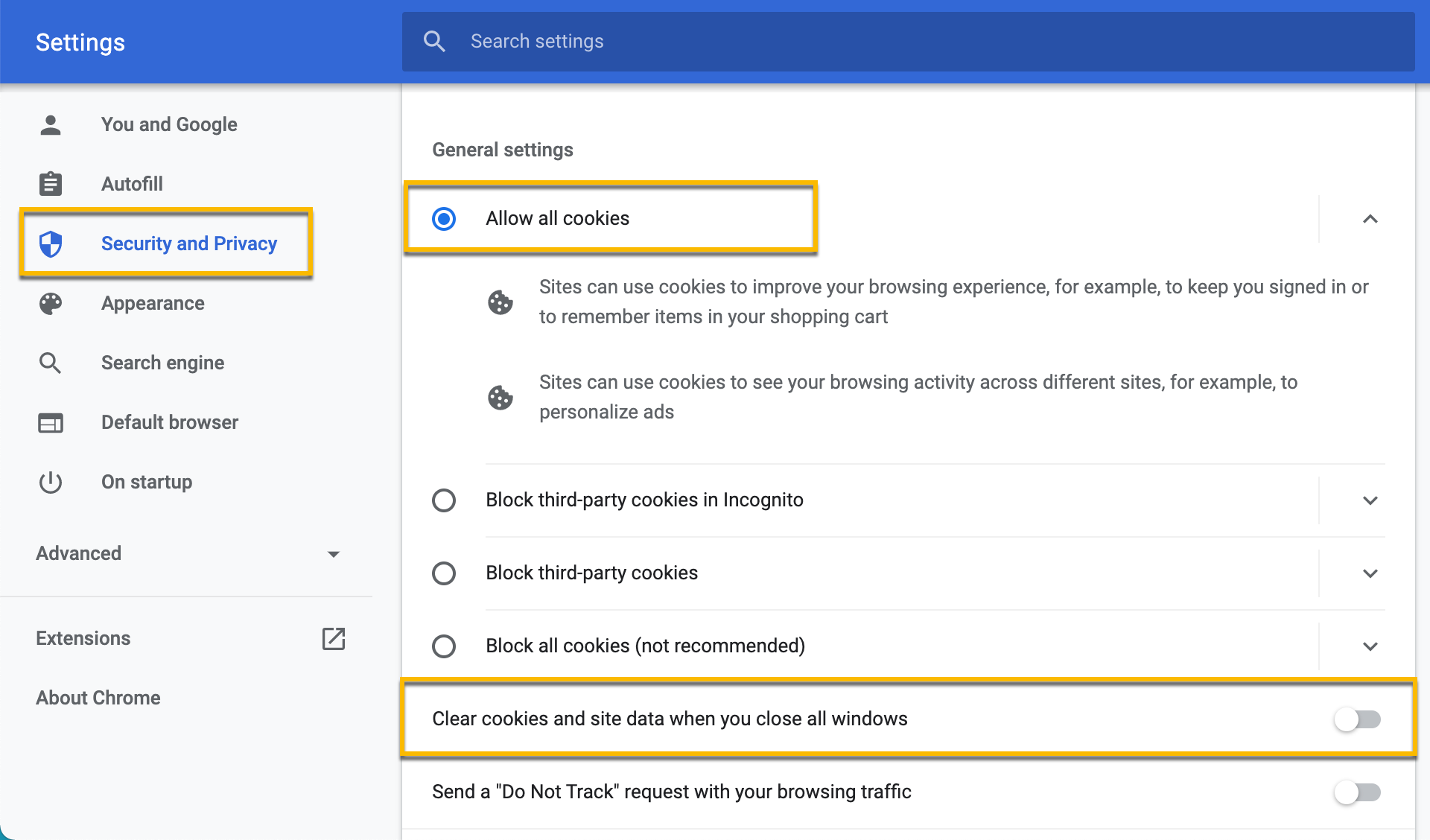 If you continue to experience sign in issues, please reach out to our Support team for further assistance. 
SSO troubleshooting steps
If you belong to an account where SSO has been set up, you may encounter one of the following messages while signing in.
Message
Explanation
"Your email address is associated with an organization that only allows secure sign-on access"

Your company requires that employees sign-in with SSO. Other sign-in options, like Google, Apple or Microsoft are not permitted.

Select Continue with SSO to sign in.

"Your email address is not associated with the selected SSO profile"

Your company has set up more than 1 profile for SSO. Different sets of users in the account are associated with different profiles.

Select a different profile from the dropdown menu. If you are unsure which profile your user belongs to, ask your account's administrator for help.