---
In order to identify your viewers, you must associate an email address with view data.
Vidyard always tracks your viewers, but until we can associate an email address with the viewer's tracking cookie, the viewer will remain anonymous to us. By associating a viewer's analytics to their particular email address, you can keep track of who's watching your video, and for how long, at an individual level. You can then look at an individual viewer's data in the Contacts Center using the email filter.
Here you will learn a few ways to associate an email address with view data. You only need to do this once per tracked viewer, then Vidyard will always know who they are.
Methods of identification
Lead Capture Form
If you're looking to place a player on a website that is open to new traffic, a lead capture form (or an email gate) is great way to gather email addresses and other information before playback. This is especially useful if you do not have access to a Marketing Automation Platform (MAP).
Once a visitor clicks on the player, they will be presented with a form that asks for an email address.
Use the Vidyard event library to create a pre-roll lead capture form and assign to the video on your webpage. These forms can be designed as a skippable or mandatory event. You can also set the form to appear only for new contacts to your webpage so repeat visitors only have to fill out the form once.
You may even want to set the lead capture form as a default event. This means it will appear on every player in your group.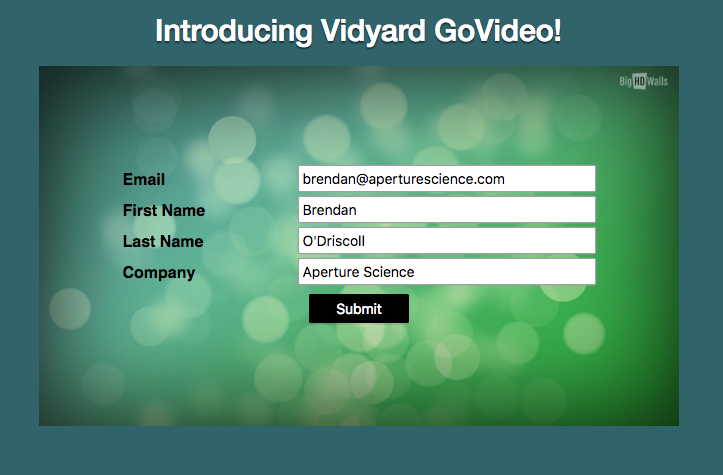 A vyemail string in the URL
Use the vyemail string to associated a person's email address with their video viewing behavior. This method is primarily employed as part of an email campaign that uses a merge tag to populate the email address of each of the recipients from your contact list.
When using an email marketing tool, automation platform or CRM, simply add the appropriate email merge tag after the string that ends with ?vyemail=. When a recipient clicks on the link (thumbnail image or text), they will be directed to a sharing page that contains the vyemail string with their email address as part of the URL. This is how Vidyard identifies the viewer.
The URL for the sharing page that contains the Vidyard player will look something like the following:
https://share.vidyard.com/watch/UUID?vyemail=brendan@company.com 
Refer to your email distribution platform's documentation for further information on how an email merge tag should be entered.
Marketing Automation Platform (MAP)
If you have a MAP integrated with Vidyard, then simply embedding the Vidyard player on a webpage should be enough to identify your viewer.
If a contact has previously identified themselves on your website (through a MAP form, for example), the MAP's cookie will have been associated with the contact's email address. 
The javascript from the Vidyard player will then perform a process to pull the email information of a viewer using the MAP's cookie ID. The Vidyard integration with your MAP provides a behind-the-scenes infrastructure to transfer the viewer's information to and from the MAP. This ensures identified viewing data is passed to Vidyard.
You may also decide to present a MAP form within the Vidyard player. Use the Vidyard event library to place a MAP form in an event.
Viewer identification and GDPR
On May 25, 2018, the General Data Protection Regulation (GDPR) came into effect in the European Union. GDPR expands the rights of EU individuals and places obligations on organizations regarding how they manage EU personal data.
Vidyard has put in place measures to ensure that customers whose businesses have a relationship with EU citizens can maintain compliance with GDPR.
Under GDPR, visitors to your webpage must consent to being tracked. This includes video view data received through the Vidyard player. If your account has the GDPR Compliance feature enabled, vyemail strings, MAP cookies, and other methods of identification will not be processed unless consent has been granted and communicated to the Vidyard player(s) on the page. Until consent has been granted, all viewers will appear as a unique, unidentified view.
A viewer's consent can be passed from a webpage prompt or banner to the player(s) on your webpage through the Vidyard Player API.
For more information, see our documentation on Vidyard, GDPR & data privacy.