Vidyard is all about detailed viewer analytics. We provide actionable insights to help you better understand how your content is performing and how viewers are interacting with your videos.
Making sure you effectively identify your viewers is a critical part of any video strategy. Vidyard allows you to identify viewers in several ways: lead capture forms, a marketing automation integration, or with an email query string (for example, as part of an email campaign).
How does Vidyard identify viewers?
Vidyard will always track your viewers, but until we can associate an email address with a browser cookie, the viewer will remain anonymous in both Vidyard Insights and any integrated CRM and marketing automation systems (Saleforce, Marketo, HubSpot, etc).
Once Vidyard knows who a viewer is, we'll be continue to associate any future activity with that person as a contact⁠—unless, of course, they clear their browser cookies.
Lead Capture Forms
If you're looking to place a player on a website that is open to new traffic, a lead capture form (or an email gate) is great way to gather email addresses and other information before playback. This is especially useful if you do not have access to a marketing automation platform (MAP).
Once a visitor clicks on the player, they will be presented with a form that asks for an email address.
Use the Vidyard event library to create a pre-roll lead capture form and assign to the video on your webpage. These forms can be designed as a skippable or mandatory event. You can also set the form to appear only for new contacts to your webpage so repeat visitors only have to fill out the form once.
You may even want to set the lead capture form as a default event. This means it will appear on every player in a folder.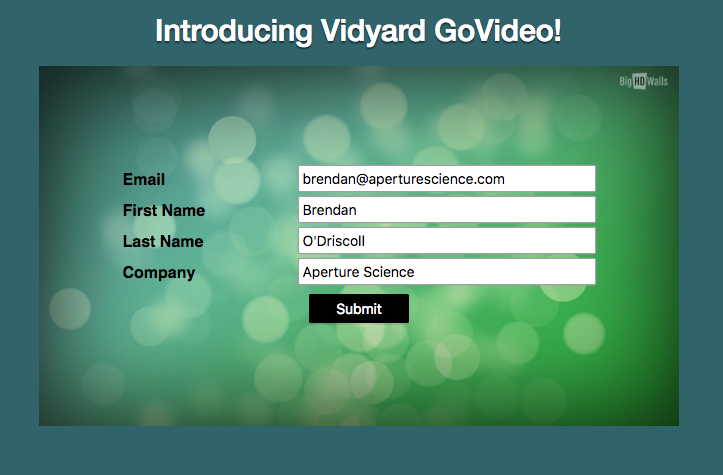 Integration with a marketing automation platform (MAP)
Vidyard has data integration with several marketing automation platforms, including Marketo, HubSpot, and Oracle Eloqua. Simply embedding a Vidyard player on a webpage with a tracking script from your MAP should be enough to identify your viewer.
If a contact has previously identified themselves on your website (through a MAP form, for example), the MAP's cookie will have been associated with the contact's email address.
The javascript from the Vidyard player will then perform a process to pull the email information of a viewer using the MAP's cookie ID. The Vidyard integration with your MAP provides a behind-the-scenes infrastructure to transfer the viewer's information to and from the MAP. This ensures identified viewing data is passed to Vidyard.
You may also decide to present a MAP form within the Vidyard player. Use the Vidyard event library to place a MAP form in an event.
Add an email query string to the URL
Vidyard allows you to add an email query string to the URL of a webpage that associates a person's email address with their video viewing behavior.
This method is primarily employed as part of an email campaign that uses a merge tag to populate the email address of each of the recipients from a contact list.
When using an email marketing tool, automation platform or CRM, simply add the appropriate email merge tag after the string that ends with ?vyemail=. When a recipient clicks on the link (thumbnail image or text), they will be directed to a sharing page that contains the vyemail string with their email address as part of the URL. This is how Vidyard identifies the viewer.
The URL for the sharing page that contains the Vidyard player will look something like the following:
https://share.vidyard.com/watch/UUID?vyemail=brendan@company.com 
Refer to your email distribution platform's documentation for further information on how an email merge tag should be entered.