Sharing pages are one of the primary methods of delivery for your video content. Whether you share a link to your video with one person, a handful of people, or thousands in the form of an email campaign, the sharing page is where a majority of viewers will experience your content.
By default, sharing pages are Vidyard branded. However, you can extend the functionality of sharing pages by adding your own branding, design, MAP integrations, and security features.
When configured at the parent group for your organization, sharing page settings are inherited by all subgroups and GoVideo Enterprise users. If required, you can override settings that a subgroup has inherited from the parent group and configure a separate sharing page experience.
Requirements
Belong to a role with the Edit Branded Sharing Pages permission
Configure a Sharing Page
In the Channels menu, click Sharing Page.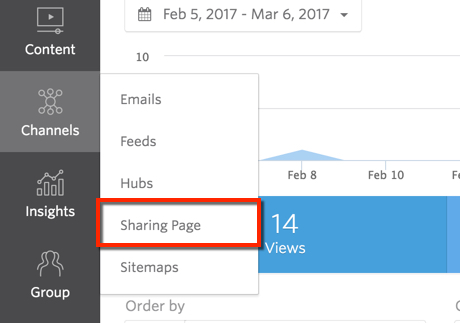 Design tab

On the Design tab, you can configure the following options:
Background Color: Choose a color for your page by selecting from the palette provided.
Brand Logo: You can include a logo for your brand by clicking the + Upload. The logo will appear underneath your player.
Footer Opacity: Change the opacity of the comments footer. This option will only appear if you've enabled

Allow Comments

in the

Options

tab.
Note: Click View Page to see how the page will look. Click Save Changes before you preview.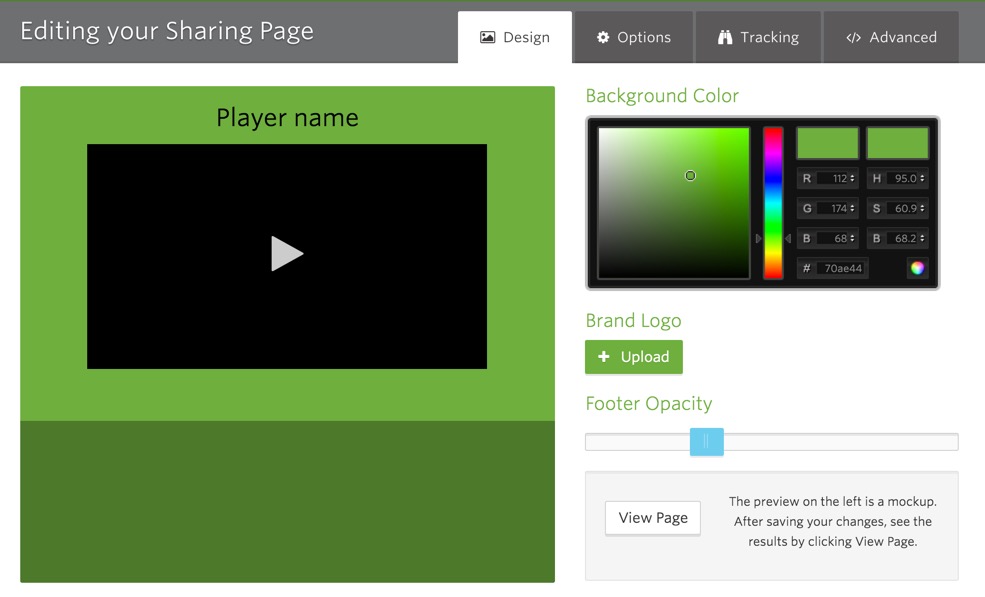 Settings tab

On the Settings tab configure a CNAME Domain or Vidyard Subdomain for your Branded Sharing Page
Note: If choosing a CNAME Domain you must create a subdomain CNAME record for your domain (E.G video.yourdomain.com) that points to hubs.vidyard.com. Visitors to your subdomain will be directed to your Sharing Page hosted by Vidyard while preventing them from seeing the Vidyard domain name. If choosing a Vidyard Subdomain you only have to choose a subdomain name (E.G sharing.hubs.vidyard.com)



See our explanatory video for more information about CNAMEs and how to use them.
Optionally, use the toggle switches to configure the following settings:
Enable search engine indexing: Choose whether to expose your branded sharing page to search engine crawlers like Google. This feature is set to OFF by default.
Show player title: The player title will appear above the player.
Show player description: The player description will display below the player.
Allow downloads: Displays a download button where users can download a copy of the video.

Integrations tab

On the Integrations tab, you can add a tracking ID for one or more of following third-party applications: Google Analytics, Adobe Analytics, Marketo, Oracle Eloqua, Pardot, Act-On, HubSpot, and Drift.

You can also choose to add comments beneath each player on the sharing page by enabling Disqus, a third-party comment hosting service. A Disqus account is required.
Advanced tab

On the Advanced tab, you can add your own custom CSS styling and HTML to your sharing page. If you don't see this option, please email Vidyard Support.
Optionally, click + Upload to add a background image to the page.
Click Save Changes when you're finished. After you save you can click View Page to preview your changes.
Security tab

Branded Sharing Page Security must be enabled on your account before you can access security features. Contact your Customer Success Manager to have this feature enabled.
On the Security tab, you can configure and enable SAML SSO (Single Sign-On) for your branded sharing page. This means that only viewers authenticated through an IdP (identity provider) will be able to securely view video content on your sharing page.
See our knowledge article for more information on how to set up SSO for your sharing page.