The Playlists feature in the Vidyard Chrome extension is currently available for the Free and Pro versions of Vidyard. Contact your Customer Success Manager to learn more about when access to playlists in the Teams and Enterprise plans will be available.
The Vidyard Chrome extension allows you to create and share videos with your customers, prospects, and colleagues⁠—all in just a few clicks.
You can either record and share videos individually or combine videos into a playlist. Playlists can be shared in many of the same ways as individual videos:
Share a link to your playlist
Post a playlist to your social channels
Send a playlist in a Gmail message
Requirements
You must have a Vidyard account
Select videos to create a playlist
You can create a playlist from your existing videos at any time in your video library.
Click on the Vidyard extension in the top, right-hand corner of your browser
Click on the Videos tab, then select Go to Library
Select more than one video from the library, then click Create Playlist
Note
Only individual videos can be combined into a playlist. If any of the items you've selected in the library is a playlist, you will not be able to select the Create Playlist button.
Change the order of a playlist
You can change the order of the videos in your playlist at any time from the video edit page. The edit page will also open whenever you create a new playlist.
Open a playlist on the edit page
Drag and drop videos to change the order of the playlist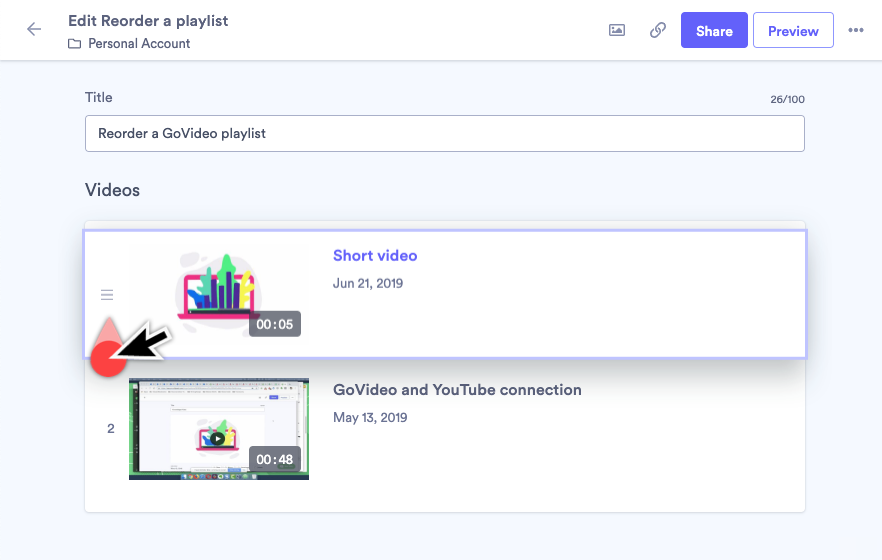 Note
The playlist takes its thumbnail from the first video in the list. If necessary, select and change the thumbnail of the first video.