Vidyard allows you to quickly and easily add users to a team. A team determines both what content folders a group of users have access to, as well as what permissions they have within those folders.
Enter more than one email address or upload a CSV file to invite multiple users all at once.
Similarly, you can remove one or more users in a single action.
Requirements
You must be a member of the Admin team
Add new users
From the Vidyard dashboard, select Admin > Users
Select Add Users
Enter the email addresses of the users you want to invite or upload a CSV file

If applicable, check Invite Users to GoVideo to assign the listed persons a GoVideo seat as well (for accounts with paid GoVideo plans)

Choose a team for your users to join
Click Add
Note
A user can only belong to 1 team. If necessary, you can always move users to a different team.
Remove existing users
When a user is removed, they will no longer be able to access Vidyard. Any assets that they authored (videos, hubs, reports, etc.) will remain in Vidyard for your team to use.
From the Vidyard dashboard, select Admin > Users
Select one more or users
Click Delete
Removing users with a GoVideo seat
When you delete a user with a GoVideo seat, their personal folder (along with their videos) will appear as "revoked" under your list of folders (Admin > Folders), keeping the video assets in your account.
(e.g. [Revoked] Personal Account - first.lastname@companyemail.com)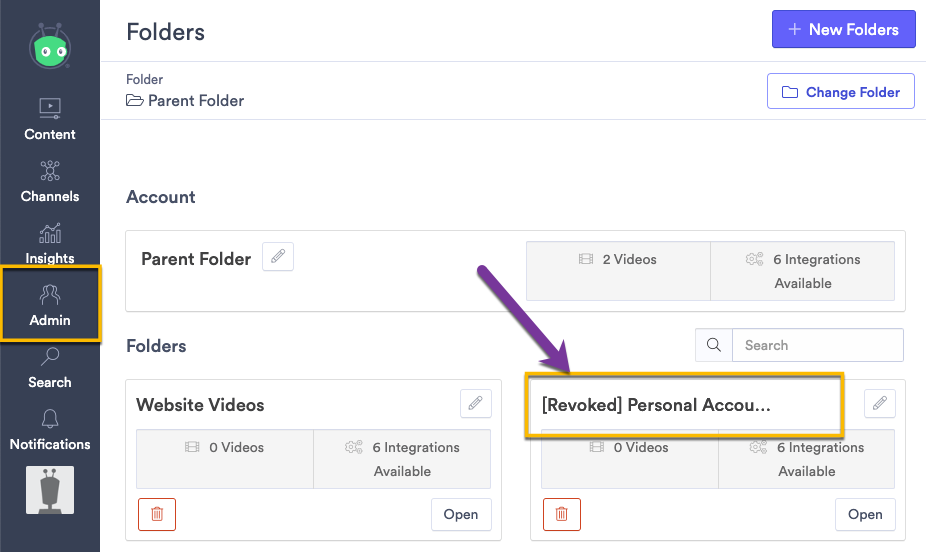 Because the user's personal videos are retained in your account, you will also receive a prompt when removing the user indicating how the addition of those videos affects your account's video limit (if applicable to your subscription with Vidyard).
If necessary, click on Go to Folder Management to move the videos to another folder, delete any unnecessary videos, or remove the folder altogether.