You can record a video with the Vidyard Chrome extension in a few simple steps.
Once you've added the extension to your Chrome browser, use the recording options to select the type of video you want to create, then start to record.
Here's a quick video walkthrough to get you started:
Start a new recording
Click on the Vidyard icon to open the extension (top, right-hand corner of your browser)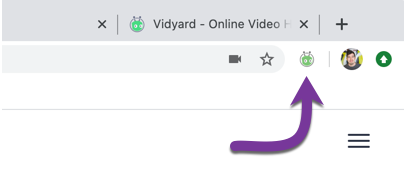 Choose the type of video that you want to record:
Screen: Records your computer's screen
Camera: Records using your computer's camera (a "selfie-style" video)
Screen + Camera: Records both your screen and your camera at the same time
For both Screen and Screen + Camera, you also have the option to decided whether you want to record your Full Desktop or Tab Only.
Full Desktop allows you to record your entire screen (everything in and outside of your browser window).
Tab Only will capture only the browser tab where you begin the recording.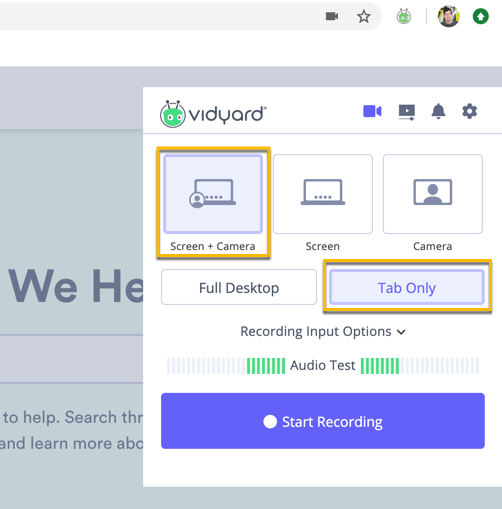 You will also see an Audio Test to indicate that your microphone is working and able to pick up sound.
If you want to change the microphone or camera that you use to record, open the Recording Input Options menu to select a different source.

Once you're satisfied with the recording options you've selected, click on Start Recording to begin.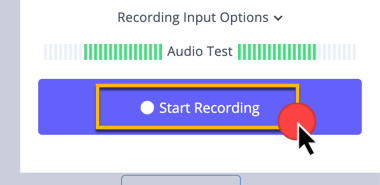 Change your recording preferences
Recording preferences allows you to customize how you use the Chrome extension to record and share videos.
Click on the settings tab in the extension (the gear icon) to open your recording preferences. Here you select or unselect from the following:
Display notifications: controls whether you receive a Chrome browser notifications whenever someone watches a video
Show recording controls: display controls during screen recordings (play & pause button, stop, restart recording, and drawing tools).
Copy link to clipboard: automatically copies the link to your video after the recording as finished